Chicago Cubs Enter 2016 Postseason as World Series Favorites
October 3, 2016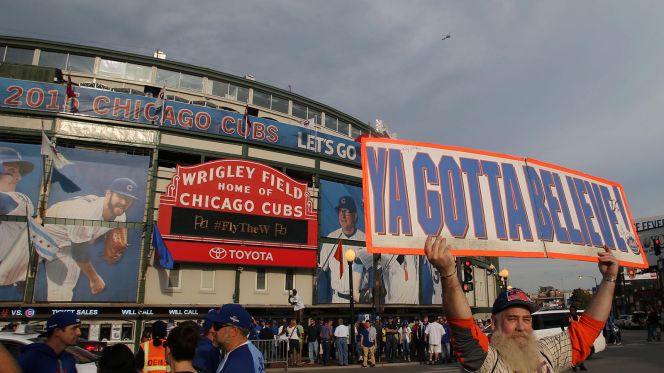 While the NFL and college football are taking most of the sports betting headlines, the Major League Baseball regular season ended on Sunday and the race for the World Series begins on Tuesday.
Odds makers have released their updated list of World Series favorites with the team at the top no surprise to baseball fans or bettors. Just as they were to start the season and throughout the 162-game season, the Chicago Cubs top the futures board as the odds on favorite to win the Fall Classic.
Chicago has odds of +225 to win the World Series. It is not surprising as they were the only team in baseball to record 100 or more wins with 103. The Cubs easily won the National League Central over second place St. Louis by 17.5 games.
However, for those that like the favorite, just six times during the last 30 years, has a team with the best record during the regular season went on to win the World Series.
The Cubs open their postseason against the winner of the wildcard game on Wednesday between the New York Mets and the San Francisco Giants. The other division series in the NL will feature the Los Angeles Dodgers and the Washington Nationals.
In the American League, the team with the best odds to win the World Series and second overall is the Texas Rangers at +500. The Rangers led the AL with wins at 95. Texas will open its postseason against the winner of the AL wildcard game on Tuesday between the Baltimore Orioles and Toronto Blue Jays.
The other division series in the American League will feature the Boston Red Sox and the Cleveland Indians.
Of the 10 teams that reached the postseason, Baltimore started the season with the longest odds of winning the Fall Classic at +4000. The Cubs began the season with the shortest odds of winning the World Series at +500.
At the start of the postseason, many baseball pundits like the Cubs in the National League and the Boston Red Sox in the American League. Chicago has played well all season, while Boston has come on strong the final month of the season to pull away and win the AL East.
Top Five Odds to win 2016 World Series
Chicago Cubs +250
Texas Rangers +500
Boston Red Sox +600
Washing Nationals +600
Los Angeles Dodgers +600