Chuck Pagano Tops List of NFL Coaches to be Fired First
October 6, 2016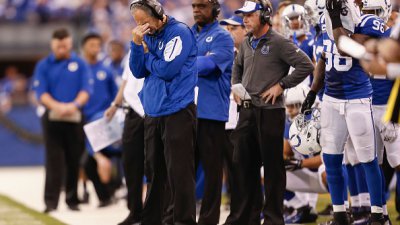 The NFL regular season is just one quarter complete and already there is talk about coaching changes. The failure of some teams to live up to expectations has caused their respective coaches to put on the hot seat.
One such team is the Indianapolis Colts. The AFC South division team is just 1-3 on the season and the job security for Chuck Pagano as head coach is quickly running out.
The organization likely handed Pagano a pass following last season's 8-8 record due to the injuries sustained by star quarterback Andrew Luck, but Luck is healthy and in the lineup and team cannot play any worse than it has already this season.
Pagano along with Ryan Grigson the general manager have failed repeatedly to give Luck consistent offense weapons or a strong offensive line.
Pagano currently is sitting on most sportsbooks as the 7 to 2 favorite to be fired first in the NFL.
Just behind Pagano on the list is San Diego's Mike McCoy. McCoy is listed at 4 to 1 to be fired first by the Chargers. San Diego on the season is just 1-3. McCoy as the Chargers coach is 5-15, since the beginning of last season.
Since the start of last season, San Diego in games ending with a difference of eight or fewer points is 3-12.
If Jacksonville had not defeated Indianapolis last week in London, Gus Bradley may have been at the top of this list. The Jaguars are on a bye this week, but then play three of their next four on the road.
Since Bradley started his career as head coach with Jacksonville, the Jaguars are an unimpressive 4-21 on the road.
Top Four NFL Coaches to be Fired First in 2016
Chuck Pagano Indianapolis Colts 7 to 2
Mike McCoy San Diego Chargers 4 to 1
Gus Bradley Jacksonville Jaguars 5 to 1
Jim Caldwell Detroit Lions 8 to 1
Rex Ryan Buffalo Bills 10 to 1