College Basketball Free Pick: Iowa at Minnesota
February 21, 2018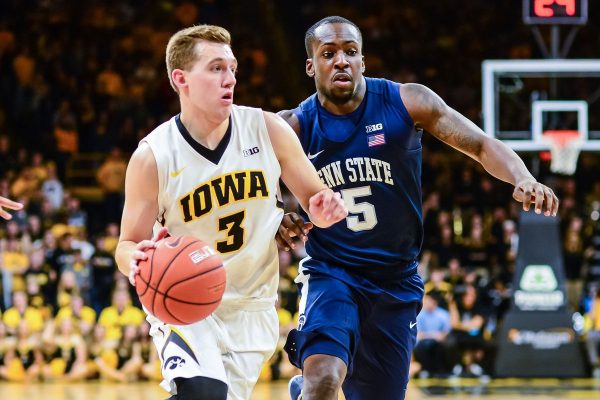 At 9:00 PM tonight the Iowa Hawkeyes are in Minnesota to do hard court battle with the Golden Gophers. In years past this would be a marquis game and would have all kinds of implications for the post season tournaments. This season, not so much. These are two mediocre, at best, basketball teams hoping to finish out the season strong with a "you never know" type attitude. And that is just fine.
Minnesota at home is a 1.5 point favorite. The total is a whopping 160 points. The line was issued yesterday at Minnesota -3 but there was enough Iowa action to bring it down. Currently, the public action is about balanced with 52% of the bets on Minnesota -1.5 at home.
Iowa is 12-17 SU and 10-14-2 ATS. I take back what I said earlier about a mediocre team. I was trying to be nice. They are bad. They lost their last five games. Four days ago, however, they showed life. They had a chance to beat Indiana and ended up losing by just 2 points. Iowa averages 79 PPG on offense and allows 78 PPG. A lot of their early season wins were against cream puffs. All D1 schools front load their schedule with smaller schools to get some wins under their belt and to get some floor time. In this case, Iowa started 3-0 against powerhouses Grambling State, Chicago State and Alabama State. They then went on to dominate such juggernauts as UAB, Drake , Southern Utah and Southern U (not to be confused with Southern Utah). Take away those 8 wins and you have a 4 win team that hasn't really beaten any good teams.
Minnesota is 14-15 and 10-18 ATS. They score 76 PPG and allow 74 PPG. Take everything I said above and now apply it to Minnesota. But, now add in the fact that they do have a few quality wins. Wins against Rutgers, Alabama and Penn State show that they are not talentless.  But, they are on a 9 game losing streak. And one of those losses is to.. drumroll please… the aforementioned Hawkeyes of Iowa.
On January 30, Iowa hosted Minnesota and outplayed the Gophers. They won the game 94-80 and had very solid contributions from their starters. All five starters and even a bench played scored in double digits.
Head to head Iowa owns a slight advantage. 6-4 SU and 6-4 ATS the last 10 times they played. Here are some isolated trends that helped me with my final conclusion:
Minnesota is 4-2 ATS in its last 6 games when playing Iowa.
Minnesota is 6-2 SU in its last 8 games when playing at home against Iowa
I really had to sift through the trends to pull these out. And there are some trends that would seemingly contradict those above. But in the end, I think Minnesota pulls out the win. They are a better team and even though they just got beat handily three weeks ago by the Hawkeyes I have to take Minnesota here.
If you like free picks and daily sports betting tips and news feel free to sign up at our newsletter. You get a simple email in your box letting you know if a post has been made and you can delete it or click it. Unsubscribe at any time. An informed bettor has a much better chance of winning. Also, we share our posts on twitter @bookieadvisor