College Football Numbers and Odds for Bettors to Peruse
December 17, 2015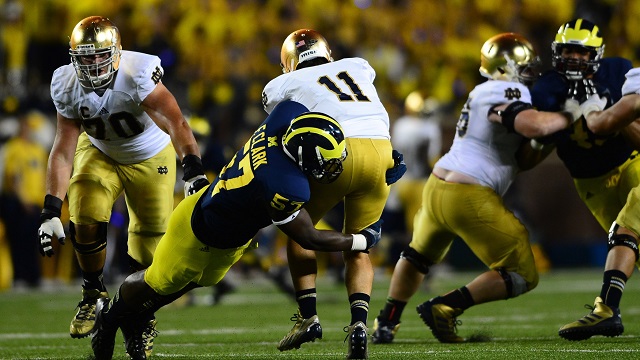 The 40 bowl games on tap over a two-week period that runs until January 2, 2016 will have many teams that have not played one another as well miss matches statistically between the two teams.
The bowl season also cultivates large amounts of numbers, odds, trends and more for bettors to digest.
Here are a few statistical mismatches in the upcoming bowl season.
The No. 1 red zone offense of Washington State will face Miami's red zone defense that is ranked No. 108.
The rushing offense for LSU is ranked No. 12 and will face the Texas Tech rushing defense that is No. 125.
The pass rush of Texas A&M is No. 20 in the nation, while the pass protection of Louisville is No. 126.
The Michigan pass rush is No. 30, while the Florida pass protection is No. 121.
Here are a few numbers to digest
Teams in the MAC were the most penalized of anywhere in the country averaging almost 7 penalties per game and over 62 yards lost each game.
The underdogs were 25-14 against the number in last year's bowl games.
In the past 10 seasons of bowl games, the Over has cashed 166 times and the Under 172 times.
The number of bets are equal for the bowl game between BYU and Utah as there is so far in the College Football Playoff game between Clemson and Auburn.
Since the bowl season of 1984, teams entering the bowl season on a losing streak of three games or more are 27-15 against the number.
Of all the bowl games teams, the ones with the toughest schedule that is non-conference, are Oklahoma, Notre Dame and Tennessee, while those with the three easiest non-conference are North Carolina State, Arizona and Georgia State.
Ten of the 12 games Connecticut played cashed on the UNDER.
Auburn has the worst record against the spread of any team in the bowl season at 3-9.