College Football Week 1 by the Numbers
September 5, 2016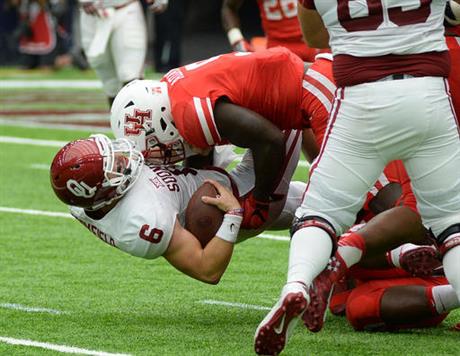 Following a wait of almost eight months, college football kicked off Week 1 of its regular season this past weekend, with games played Thursday through Monday.
Week 1 Numbers
The favorites were 68-15 straight up and 38-43-2 against the spread. Teams playing at home were 61-16 SU and 33-43-1 ATS. The over/under was 27-42-3.
Games played on neutral sites had the favorite 4-2 SU and 2-3-1 ATS. The over/under on those same sites was 2-4.
The largest dogs to win their game straight up were South Alabama +28, Eastern Michigan +27.5 and Albany +21. South Alabama defeated Mississippi State 21-20, Eastern Michigan beat Washington State 45-42 and Albany beat Buffalo 22-16.
The largest chalk to cover was Miami -52, Oklahoma State -49 and Middle Tennessee -47.5. Miami beat Florida A&M 70-3, Oklahoma State beat SE Louisiana 61-7 and Middle Tennessee beat Alabama A&M 55-0.
In the top marquee matchups, things went to plan with the exception of a few games. Alabama the No. 1 ranked team routed USC 52-6 in a game many felt would be much closer.
Clemson the No. 2 ranked team was challenged much more in its opener winning by just 19-13 against Auburn. Wisconsin surprised many by defeating LSU.
Wisconsin on most sportsbooks was unranked entering the weekend, but by defeating the No. 6 ranked team, odds are the Badgers will be ranked this week.
The teams in the top 25 were a strong 17-6 SU but just 9-14 against the spread.
Houston showed how tough they will be this season by beating Oklahoma 33-23 on Saturday. On most sportsbooks, Oklahoma was ranked No. 3 entering the game.
Bettors were hit hard by Clemson over the weekend. The Tigers led 19-13 with less than a minute left in the game, but were favored to win by 7.5 points.
The Tigers could have kicked a field goal on fourth down to go ahead 22-13 and give Clemson bettors a cover and make the score a two-possession game. Clemson stunned the betting world by going for first down
Kentucky was ahead in its game 35-10 and it appeared the 3.5-point favorites were well on their way to a SU and ATS win. Southern Mississippi however narrowed it to 35-17 at the half, then proceeded to outscored Kentucky during the second half 27-0 to take the win 44-35 covering by 14.5 points.