College Hoops Free Pick Clemson at Virginia
January 23, 2018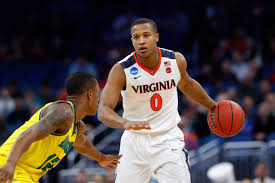 Steadily and surely the UVA basketball team has done it again. Everyone looks at the marquee schools and watches every win and every occasional loss, meanwhile Virginia is over here putting together win after win. And they are doing it in a premier basketball league.
Virginia is 18-1 and ranked #2 in the country. They are doing with defense, as they usually do, but now with more offense too! They only allow 52 PPG and score 70. That is a recipe for success. Tonight they play conference foe #18 ranked Clemson. The game tips at 7pm EST and is being played in Charlottesville, Va.
Clemson is having quite the season themselves. They are 16-3, score 77 points on offense and allow 65 PPG. This would be a gigantic win for the Tigers. Clemson's schedule lately has been brutal. They beat Louisville, lost to NC State by one point, beat Miami, lost to UNC by 8 and then beat Notre Dame. Now they are in #2 Virginia's dome and the entire basketball betting country will be watching.
The last time they played was almost exactly a year ago and Virginia squeezed off a win at Clemson (77-73). Virginia owns the Tigers head to head last ten played, Virginia is 8-2 SU and 6-4 ATS.
I like Clemson in this spot getting all those points. They have been battle tested and have proved they can beat the good teams. I feel like this matchup is similar to the US judicial system (defense must prove the guilt), Virginia has to prove that they can win and win by ten point or more. We already know Clemson is good. So, the smart money for me is to take the points and look for Clemson to play smart basketball and UVA to have to play perfect hoops to win by ten or more.