Current College and NFL Championship Odds
December 28, 2017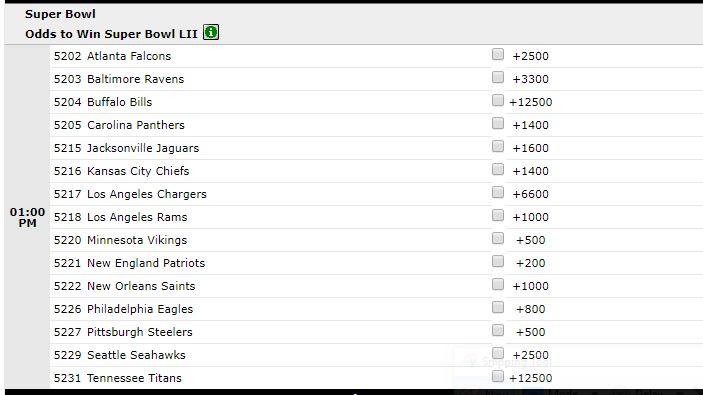 Week 17 of the NFL in approaching and that means the playoffs are right around the corner. The teams are almost locked in. It is even more narrow a field for College football which has had its Final Four locked in for weeks now. Below are the accurate odds as of 1:25 pm EST Thursday, December 28, 2017:
NCAA
Alabama +185
Clemson +305
Georgia +320
Oklahoma +375
I think Alabama will probably win it all but a good bet to take for the value of it is Oklahoma +375.
NFL
5202
Atlanta Falcons
+2500
5203
Baltimore Ravens
+3300
5204
Buffalo Bills
+12500
5205
Carolina Panthers
+1400
5215
Jacksonville Jaguars
+1600
5216
Kansas City Chiefs
+1400
5217
Los Angeles Chargers
+6600
5218
Los Angeles Rams
+1000
5220
Minnesota Vikings
+500
5221
New England Patriots
+200
5222
New Orleans Saints
+1000
5226
Philadelphia Eagles
+800
5227
Pittsburgh Steelers
+500
5229
Seattle Seahawks
+2500
5231
Tennessee Titans
+12500
I think the value play here is Carolina. They are definitely going to the playoffs and for some reason aren't really gathering that much attention from the announcers or prognosticators. They have the same odds as Kansas City who is inferior to them. I got them at season's start when they were around +3300 and I still like them.