Dallas is Solid Choice as Road Dog on Sunday
September 17, 2016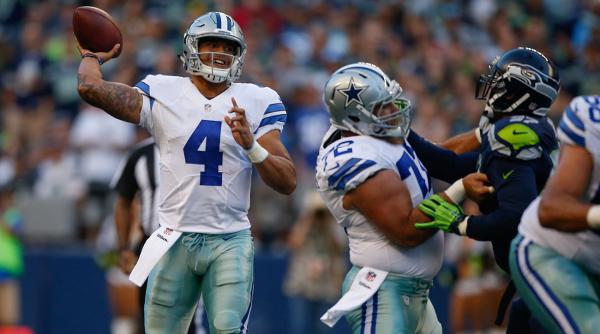 On Sunday, the Dallas Cowboys will play their second NFC East opponent in as many weeks when they visit the Washington Redskins. Both teams lost their opening games of the season last week with Dallas falling to the New York Giants 20-19 and Washington losing on Monday night to the Pittsburgh Steelers 38-16.
Sports bettors looking for a solid case to go with the dog might not have any further than the Cowboys.
The Redskins could face a tough time on defense against the Cowboys rookie quarterback Dak Prescott and rookie running back Ezekiel Elliott.
The Redskins were beaten to a pulp by Ben Roethlisberger, DeAngelo Williams and Antonio Brown. Of course, sports bettors know that Prescott is not Big Ben, and Elliott is not DeAngelo, but Prescott has showed a strong arm, great poise and a gifted pair of legs as has Elliott.
Add to the fact that the Cowboys had the fourth most rushing yards during Week 1, they may do some serious damage on Sunday to the Washington defense.
The Redskins were the worst defense in the NFL last season against the rush on first down and Dallas will look to establish the run early and often.
Of course, Dallas also has its own version of Antonio Brown in Dez Bryant, who was passed to only five times last week versus the Giants making just one catch.
Odds makers, the computer and many pundits do not give the Cowboys much of a chance in this matchup due to recent history head to head with Washington and having two rookies starting at skill positions on offense.
However, if the Cowboys can keep the ball on the ground, eat time off the clock, score touchdowns and not field goals from the red zone, then they could at least cover the number if not walk away with an outright win as a 3.5-point road dog.
Of course, Kirk Cousin will also have a say in the outcome of this game. The Washington quarterback threw for 329 yards last week in the loss to Pittsburgh and could do damage to the Dallas secondary as did Eli Manning during Week 1.