Denver Broncos Losing Value on Super Bowl LI Futures Board
December 3, 2016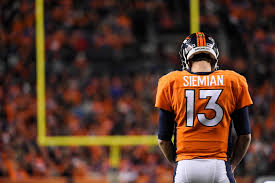 As the NFL enters Week 13 of the regular season, sportsbooks are busy adjusting the Super Bowl LI futures yet again. Only five weeks of the regular season remain and while some teams are already looking ahead to next season, others are moving up the odds board for the February 2017 Super Bowl.
One team that is on the fence when it comes to making the playoffs is the Denver Broncos. Last year's Super Bowl champions would not make the postseason if the season ended today.
The Broncos have lost two of their past three games and could have lost all three if not for a fortunate victory against New Orleans.
Denver currently is 28 to 1 to win the Super Bowl. For some bettors, there might be some value there, but for most that remains to be seen.
Last season, at this time, Denver was 9-2 and looking to secure a bye in the first round of the playoffs. This season the Broncos are 7-4 and sit behind both Oakland and Kansas City in the AFC West divisional race.
Not only are the Broncos sitting in third place, but also they have three of their final five games on the road and the five opponents they face to close the season have a combined win percentage of .607.
Denver will have starting quarterback Trevor Siemian on the bench this week with an injury and will start rookie Paxton Lynch which also complicates matters.
While many bettors would have shied away from Denver on the futures boards, there are other teams that still represent value.
The New York Giants have quietly won six straight and will have a big test in Pittsburgh this week. At 20 to 1, the Giants hold value for those looking to place a small bet on a team with long shot style odds.
Top Ten Shortest Odds for Super Bowl LI
New England Patriots 12 to 5
Dallas Cowboys 4 to 1
Seattle Seahawks 15 to 2
Oakland Raiders 10 to 1
Pittsburgh Steelers 12 to 1
Atlanta Falcons 16 to 1
Kansas City Chiefs 16 to 1
New York Giants 20 to 1
Green Bay Packers 25 to 1
Denver Broncos 28 to 1