Early Lines for Sweet 16
March 23, 2015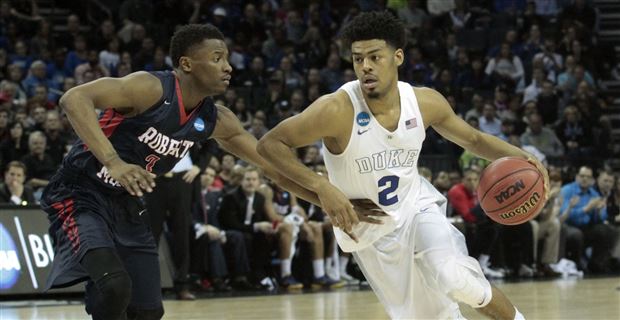 The NCAA Tournament has been whittled from 64 teams to just 16. Thursday night four games will start the Sweet 16 with four more to follow on Friday. Here are the early lines on the games this week.
Thursday March 26
West Virginia No. 5 vs. Kentucky No. 1
The Wildcats opened -13.5 after easily winning both of their games over the weekend. West Virginia defeated a tough Maryland team on Sunday to move to the Sweet 16.
Wichita State No. 7 vs. Notre Dame No. 3
Some books opened the line on this Notre Dame -1, but others went straight to a pick 'em. Wichita State upset No. 2 seeded Kansas on Sunday to reach the Sweet 16.
Xavier No. 6 vs. Arizona No. 2
Arizona opened at -11 vs. Xavier. That was the same amount the Wildcats were favored over Ohio State when they won by 15 on Saturday in the round of 32.
North Carolina No. 4 vs. Wisconsin No. 1
Odds makers opened this line with Wisconsin at -5.5. Most power ratings only make Wisconsin 2 points better than the Tar Heels. The game should be close the way both teams are scoring on offense.
Friday March 27
Utah No. 5 vs. Duke No. 1
Duke opened -4.5 in this matchup. The Blue Devils opened up strong against San Diego State on Sunday and then just cruised the rest of the way to victory.
UCLA No. 11 vs. Gonzaga No. 2
Gonzaga has opened as a 9-point favorite in this matchup. This is the second time the two teams will play this season. Gonzaga defeated UCLA 87-74 in the first matchup last December as a favorite by 6.5 points.
North Carolina State No. 8 vs. Louisville No. 4
The line opened with Louisville at -1, but the Cardinals have been bet up to -3. NC State knocked the No. 1 seed in the region, Villanova, out with a strong game on Sunday.
Michigan State No. 7 vs. Oklahoma No. 4
After knocking off Virginia the No. 2 seed as a 4.5-point dog, Michigan State is the only Sweet 16 team favored over an opponent that is a higher seed. The line has been posted from between -1.5 and -2.5 in favored of the Spartans.