Floyd Mayweather's Big Win, Vegas' Big Loss, Vegas' Big Win
October 16, 2014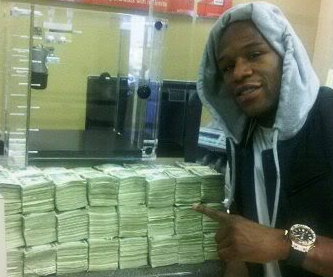 In case you missed it, Floyd Mayweather threw down $815,000 on the Denver Broncos to cover the 7.5 points against the New York Jets last week. Things weren't looking so great for "Money" until a late interception by Aqib Talib was returned for a touchdown, and gave Denver a 14-point victory. Mayweather placed the bet at M Resort in Las Vegas. He wasn't in attendance at the sportsbook during the game, but arrived to collect $1.4 million immediately after the game ended.
Mayweather wasn't the only winner thanks to Talib's pick-6. According to Las Vegas sportsbooks, heavy money was bet on Denver. Multiple sportsbooks in Las Vegas (Aliante and Westgate, for example) reported that 95% of the bets were on Denver. That meant that when the Broncos were up by just 7 late and the Jets had the ball, Vegas sportsbooks stood to win some big bucks, and a whole heck of a lot of gamblers stood to lose.
And then it all changed in a matter of seconds. That's the exciting part of sports betting. Sometimes a game appears to be a definite loss, and then one play changes everything. Some Las Vegas sportsbooks lost hundreds of thousands of dollars on the Denver-NYJ game.
That wasn't the only interception that cost Vegas sportsbooks. Rashad Johnson of Arizona picked off a Kirk Cousins pass and took it to the house late in the game to seal a 30-20 victory over the Redskins. That interception also allowed Arizona to cover the spread. The heavy action was on the Redskins in this one. According to MGM vice president of race and sports Jay Rood, those two interceptions cost the sportsbook "half-a-million dollars". Ouch.
Of course, Mayweather was the biggest beneficiary of Talib's pick-6. Mayweather was given –130 juice and earned more than $600,000. This wasn't the first time Mayweather has won big betting on sports. In fact, a few weeks ago, the boxing star won nearly $700,000 on the Colts/Jaguars game. Mayweather is a heavy bettor that loves action. He also loves to flash around his cash and show off his big win tickets. However, he's doesn't seem to show off his losing tickets, so who knows whether or not he's a winner or loser when it comes to sports betting.
Pick-6's Didn't Prevent Las Vegas Sportsbooks from Winning
I wouldn't feel too bad for the Las Vegas sportsbooks because of the crushing pick-6 defeats. Even with those tough losses, the sportsbooks still came out on top on Sunday. M Resort, the casino that took Mayweather's bet, finished the day up about $500,000. If not for the pick-6's, the sportsbook would have been up about $1.5 million. That's a big difference but it's hard to feel bad for a sportsbook that turns a $500,000 profit in one day.
Las Vegas sportsbooks almost always find a way to win. That doesn't mean sports bettors never win. In fact, many of them do. But it just goes to show how important it is to master the skills we teach right here on this blog (for free). These sportsbooks make money almost every week because 90% of the bettors don't know what they're doing.