Four Teams Perfect or Winless Against the Spread After Week 4
October 5, 2017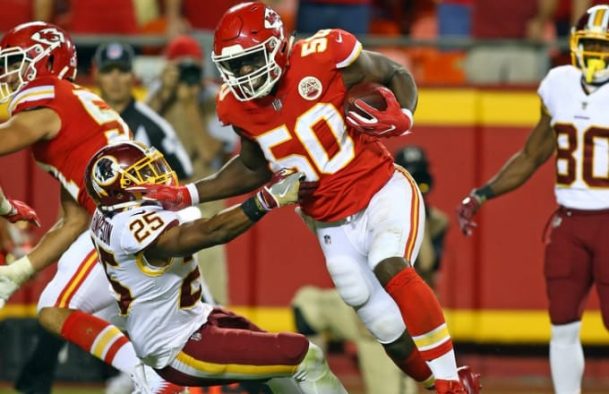 After four weeks of the NFL regular season, two teams – Chiefs and Bills – are undefeated against the spread at 4-0, while two teams – Cardinals and Chargers – are winless ATS.
The NFL is designed to create parity across the league. It is very rare for teams to win or loss for that matter, four consecutive games against the spread during the season with sportsbooks always making adjustments and lines that even out games.
However, the four previously named teams have done just that through four weeks, but odds are that will end soon.
Kansas City and Buffalo are 4-0 ATS after going ahead late in games and covering the number. Buffalo used three field goals during the final quarter to upset Atlanta 23-17 on the road as 8-point dogs.
Kansas City was 7-point chalk on Monday against Washington and covered 29-20, but only after kicking a late field goal and recovering a fumbled lateral and returning it for a touchdown as time ran out giving them the 9-point victory margin.
The last play of the game was meaningless to who won, but was one of the worst bad beats in the NFL in the past few years for those taking the points and Washington.
In the past 28 seasons, two or more teams have started Week 5 at 4-0 ATS nine times. One or more of the two has not covered each of those nine times, and overall the 4-0 ATS teams over that span are a combined 10-22-2 ATS.
The Chiefs are a PICK versus the Texans in their Week 5 matchup, while the Bills are 1.5-point dogs on the road in Cincinnati.
The Cardinals and Chargers are just the opposite going winless ATS through four weeks. Arizona in each of its last 10 seasons has covered two or more of its opening four games, making this situation rare for the Cardinals.
The Chargers however, have been slow out of the gate the past three season, with a combined record of 3-11 straight up and 4-9-1 ATS after Week 4.
Multiple teams have entered Week 5 winless against the number on six occasions the past 28 seasons. At least one team each of those six times covered the number in Week 5, but overall those teams are 12-14-1 ATS.
Nearly 30% of the teams that have started 0-4 ATS dating back 28 seasons have gone 0-5 ATS to start their season. The Chargers are getting 3.5 points this week versus the Giants and the Cardinals 6.5 points against the Eagles.