Free MLB Pick: Dodgers vs Cubs
June 18, 2018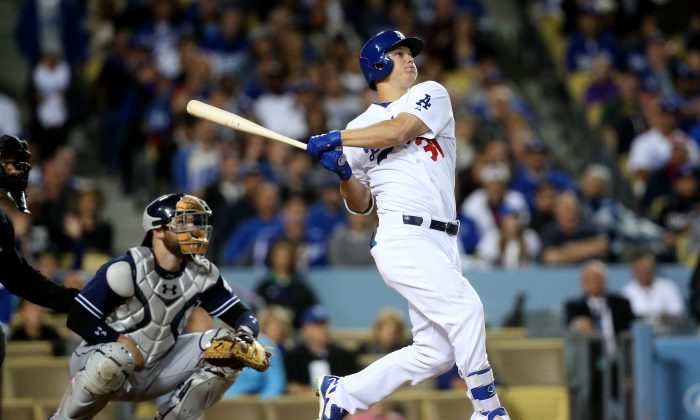 The ascent back to the top of the National League West by the Los Angeles Dodgers received a slight setback on Sunday in a 4-1 loss at the hands of the San Francisco Giants. The Dodgers hope to resume their push toward first when they play the hot Chicago Cubs on Monday.
Sportsbooks have a current line on this game with Los Angles favored at -125, Chicago at -105 and the over/under not yet released.
Los Angeles opens a six-game road trip with Monday's game at Wrigley Field. The Dodgers were 6-2 on their just concluded eight-game home stand but more importantly are 21-7 over their last 28 games played to inch with 1 ½ games of first place Arizona.
The Dodgers have seen Joc Pederson come around in June with seven home runs while Kike Hernandez has a six-game hitting streak entering Monday's game. Dodgers pitcher Kenta Maeda will start for just the second time since returning from a hip injury that sidelined him two weeks.
Dodgers' third baseman Justin Turner has a five-game hitting streak entering Monday's game with a home run and two doubles over that period.
Chicago will start Tyler Chatwood on the mound in Monday's game. The Cubs had a great opportunity to finish the weekend atop the NL Central with a win, but were held to four hits by the St. Louis Cardinals and lost 5-0. The loss spoiled the Cubs chance of sweeping their division rivals.
Chicago is 14-6 over its past 20 games, but might have to play without its leader in home runs and runs batted in Javier Baez. The Cubs infielder suffered a left elbow contusion after being hit by a pitch in Sunday's loss. The team has not yet announced Baez's status for Monday's game. Chicago outfielder Albert Almora Jr. had two hits in the Cubs loss on Sunday and in June has 18 hits in 50 at-bats.
Los Angeles right hander Kenta Maeda is 4-4 with a 3.61 ERA. Maeda is winless in two straight starts. In the two starts, Maeda has just fanned three hitters while striking out 20 in two starts in last May. In his most recent outing on Wednesday, Maeda allowed five hits and two runs with three walks in a five inning no-decision against Texas.
Chicago's Tyler Chatwood is 3-5 with a 4.12 ERA. He has not won in his past six outings. In his most recent outing, the right-hander gave up five hits and four runs in five innings suffering a loss to the Milwaukee Brewers. Chatwood has not pitched more than 5 1/3 innings in eight consecutive starts and over the past two months his ERA has been 5.19.
Prediction: Both pitchers might be somewhat suspect but Maeda has pitched more consistent than Chatwood. The Dodgers hitting is in full swing with Hernandez, Pederson, Matt Kemp, Cody Bellinger and Max Muncy leading the way. Dodgers win this one 6-3.