Free Pick: Kansas at Texas Tech
February 23, 2018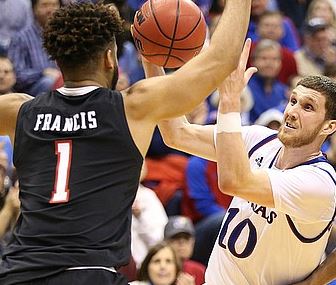 At 4:15pm EST The Jayhawks of Kansas are in Lubbock to do battle with the Red Raiders of Texas Tech. The sportsbook point spread has been issued at Texas Tech -2 and 142 is the total. So far about 62% of the public is taking Texas Tech at home minus he two points.
Both teams are ranked nationally. Kansas is #8 and Texas Tech is #6. Both teams are 22-6. Kansas is 14-13 ATS and Texas Tech is 14-12 ATS. This is where the similarities end. Kansas is much more of an offensive scoring team and Texas Tech relies on their great defense to win ball games. Kansas scores 82 PPG and allows 70. Texas Tech scores 75 PPG and allows 63.
Kansas doesn't mind road trips, a fact proven by their 6-2 road record. They have beaten some pretty darn good teams away from their home court. Those teams are Nebraska, Texas, TCU, West Virginia, K-State and Iowa State. They lost to Oklahoma and Baylor. The Jayhawks are currently on a three game win streak.
Texas Tech is an immaculate 16-0 at home this season. They did just drop back to back games on the road to Oklahoma State and Baylor however. Their home fans are expecting them to beat Kansas and get back on track.
Head to Head
Kansas totally owns the Red Raiders to the tune of 9-1 the last ten games played. The Jayhawks are 6-4 ATS in that ten game sample. But, that one loss came earlier this year, on January 2nd. That is when Texas Tech beat Kansas at Allen Field House 85-72. "After watching the tape, we're probably fortunate the game was as close as it was," said KU coach Bill Self. "They totally dominated the game from start to finish."
If Texas Tech wins this game, it will be the first team to win a two game series against KU during the regular season in the Bill Self era.
Conclusion
This game has a lot of factors going both directions. You have a Kansas team that can beat any team on a good day and who have historically dominated Texas Tech. And then you have an undefeated (at home) Texas Tech team which has the same win/loss record as Kanses does. For this game I am going to have to dig into my gut instinct. And that gut instinct is telling me that Kansas may very well get the win here. But also, the score should have both teams in the 70's and should take it OVER 142 points. So, really I have two plays on this game: Kansas +2 and OVER 142. Play these picks now at an A+ rated sportsbook.