Good Value in Taking SEC Team to Win College Football Playoff
August 2, 2016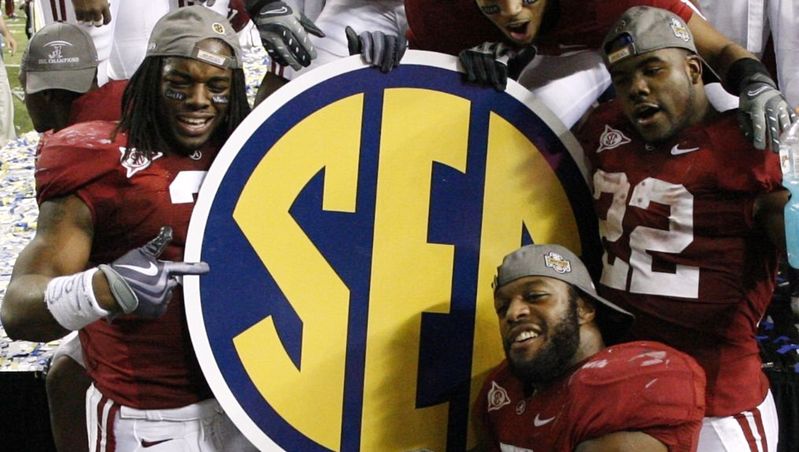 The SEC has ruled college football for the past decade, with national champions 8 of the past 10 seasons. Here is why the SEC will once again be the King of College Football.
That is why there is good value in betting with a team in the SEC to win the national title.
The Heisman Trophy could wind up back in the SEC for a second straight season. Derrick Henry won the award last season but has moved on to the NFL, but Leonard Fournette, the LSU tailback is amongst the top three betting favorites to win the trophy this season.
Nick Saban the Alabama head coach has had 10 victories or more each of the past 8 seasons. That is the longest active streak amongst FBS football programs.
The Crimson Tide under Saban has also collected the top-ranked recruiting class in the nation for six straight years.
As a result, Saban has won five national titles since 2003 – four at Alabama and one at LSU.
Ole Miss may not have the complete team needed to play for the National Championship, but it might have the best quarterback in the SEC and possibly the country.
Chad Kelly is attempting to become the first SEC quarterback in history to pass for 4,000 yards or more in successive seasons.
The powerful SEC West division could be the single strongest division or even conference in the country with Alabama, LSU, Ole Miss and Texas A&M all with an opportunity to win the division title, play for the conference championship and reach the proverbial Final Four of Football at the College Football Playoff.
Things do not start easy for the SEC as during opening week of the season Clemson plays Auburn, USC plays Alabama, North Carolina visits Georgia, West Virginia visits Missouri, Wisconsin plays LSU, UCLA plays Texas A&M and Florida State takes on Ole Miss.
All games that will take large handles at the betting windows and all that could affect teams if they lose after just the first week of the season.
Because of the strength of the SEC from top to bottom, taking a team from the conference for the national championship might have better value than a team from another conference.