Heisman Trophy Futures: Top Running Backs
May 24, 2017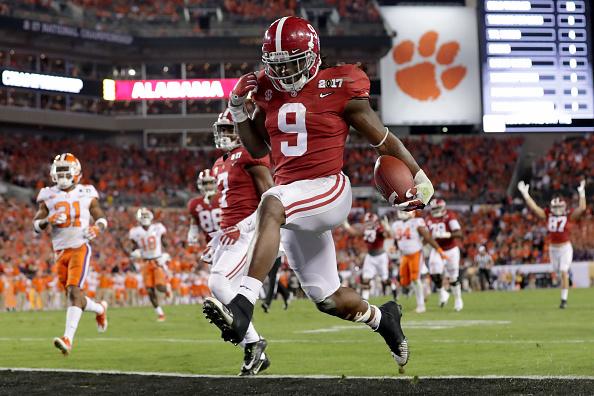 When the topic of the Heisman Trophy is brought up the thought automatically goes to a quarterback first. That habit is easy to understand since quarterbacks have won 14 of the last 17 seasons.
The three Heisman winners over that span that were not quarterbacks were all running backs. However, it is much more difficult for a running back to gain the spotlight than for a quarterback.
The three backs to win dating back to 2000 were Reggie Bush in 2005, Mark Ingram in 2009 and Derrick Henry in 2015. Each posted extraordinary numbers the year they won the trophy.
Henry rushed for 2,219 yards and 28 touchdowns in 2015 while with Alabama. Ingram rushed for 1658 yards and 17 touchdowns in 2009 with Alabama and Bush rushed for 1740 yards and 16 touchdowns in 2005 with USC.
This past season there was only a pair of backs that topped the rushing yards of Henry and four in rushing touchdowns.
Only two players – Brian Hill and Anthony Wales – were close to the numbers of the three last winners who were running backs. However, the two play at small schools and do not get the attention needed to win the Heisman.
Approaching this season, the running back with the best odds currently is Alabama's Bo Scarbrough at 12 to 1. He came on strong at the end of last season rushing for 454 yards and six touchdowns during the final four games.
Saquon Barkley from Penn State is the next running back with the next best odds to win the coveted Heisman at 14 to 1. He rushed for 1496 yards in 2016 for the Nittany Lions.
Another running back at 14 to 1 is LSU's Derrius Guice who was pushed into the spotlight following an injury to Leonard Fournette last season. In the eight games that he ran 16 times or more, he averaged 162 yards on the ground and nearly 2 touchdowns per game.
Even with great numbers, a running back also needs a bit of luck, meaning a less than stellar crop of quarterbacks competing for the Heisman.
However, this season there is Sam Darnold, Lamar Jackson (last season's winner), Baker Mayfield, Jake Browning and J.T. Barrett all playing quarterback and all expected to have strong seasons.
A running back will need to have a tremendous season rushing and scoring and hope that each of the five aforementioned quarterbacks play poorly, but the chances of that happening do not favor the running backs.