Indiana is the No. 1 Seed, But Michigan State the Team to Beat in Big Ten
March 8, 2016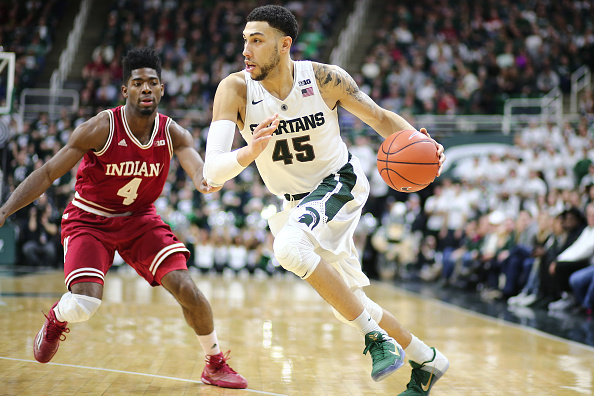 The NCAA Tournament selection committee is going to have its problems trying to decide the teams that have to play on the road in the strong Big Ten conference. The conference has eight teams that are expected to be named on Sunday to the NCAA Tournament field.
The outcome of the Big Ten tournament to end the regular season will influence the selection committee greatly when it comes to selecting a team as a higher or lower seed and if they travel long distances to play in their first game.
It has been quite some time since the Big Ten won a national title, but many believe that the Michigan State Spartans have an excellent chance to do so this year. The Spartans were the last Big Ten school to win the title back in 2000.
The Spartans lead the nation in Rebound Margin, 3-Point Field Goal Percentage on Offense and Field Goal Percentage allowed on Defense.
This season, the Spartans have beaten Louisville, Kansas and Indiana. Michigan State has gone 5-0 SU versus teams with record above .800.
The Spartans may not have won the regular season title in the Big Ten, but they are definitely the favorites in the tournament followed by Indiana, Maryland and Wisconsin.
Indiana captured the Big Ten title for the regular season but was knocked out in the first round last season by Maryland during the first round. Indiana is only 4-12 SU during the NCAA Tournament since 2004.
Maryland like Indiana is a team of shooters. However, the Terrapins are 2-3 SU over their final five games, but have a 4-1-1 ATS record in conference tournament play over the past two seasons, but struggle against the elite schools with a poor 3-11 SU record against teams that are playing at .735 or better.
Wisconsin won last year's Big Ten tournament but its long time coach retired in December and the Badgers did not start well under Greg Gard their interim coach, with four losses in the first five games in conference play.
However, the Badgers have won 9 of their past 10 overall including wins against Maryland, Michigan State and Indiana.
Tom Rizzo's Spartans look to have the edge as they Spartans have gone 30-12 SU as well as 28-12-2 ATS since 2000. The Spartans are an amazing 22-1 SU while 18-3-2 ATS when they are favored by four points or more and in this tournament under those conditions 6-1-1 ATS.