Is Dallas A Legitimate Contender for Super Bowl LII?
October 31, 2017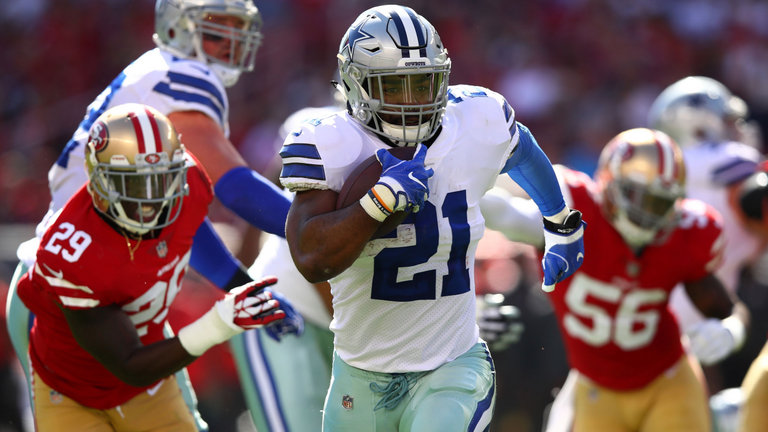 Despite winning for the second straight week in convincing fashion, the Dallas Cowboys remain two and a half games behind the Philadelphia Eagles for first place in the NFC East, but still very much in the hunt for a postseason berth.
After defeating San Francisco followed by Washington and allowing just a combined 29 points while scoring 73, the Cowboys are now 4-3 on the season and have seen their odds to win Super Bowl LII shortened to +1800.
Dallas has already enjoyed its bye week and will now push forward in what is expected to be a competitive fight for NFC East as well as the two NFC wildcard berths.
The next three games should help odds makers and bettors alike know if the Cowboys are a legitimate Super Bowl contender for the NFC when they face the Kansas Chiefs, Atlanta Falcons and Philadelphia Eagles.
The biggest question that remains on the minds of odds makers and bettors alike is the pending suspension of six games for Ezekiel Elliott.
Over the last two games, Elliott has rushed for 297 yards with four touchdowns. The Cowboys are No. 2 in the league in rushing yards per game, but without Elliott would have to greatly alter their offensive game plan with replacements Alfred Morris or Darren McFadden taking his place.
Dallas still has a chance to win the NFC East, but will need the help of other teams to beat the Eagles. However, it appears the Cowboys will be battling the likes of the Packers, Rams, Falcons and Panthers for the two wildcard berths.
Among those teams and Dallas, the Cowboys appear to have the most difficult remaining schedule and must worry about Elliott being suspended any given week as the U.S. court system slowly decides his fate. The court upheld the six-game suspension on Monday, pending an appeal by the NFLPA, which has just 24 hours to do so.
With the obstacles and uncertainty in front of them at the moment, Dallas at +1800 does not appear to have that much value at this time. If they can win at least two or all three of the next three games, the Cowboys will definitely see their odds for the Super Bowl shortened, be in a much better spot to reach the playoffs, and likely have far better value for the money.
As has been the case since the preseason, New England tops the futures board for Super Bowl LII at +350, followed by the Eagles at +600, Pittsburgh at +700, and Kansas City and Seattle at +1000 to round out the top five.