Is the Spread too Big in the College Football Playoff Final
January 8, 2016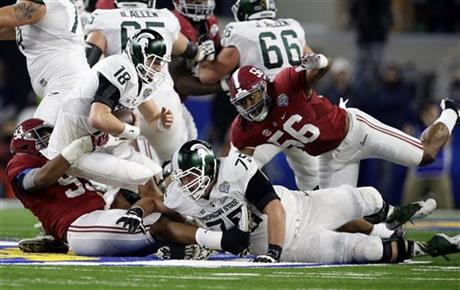 On Monday January 11, the college football national champion will be crowned when the Alabama Crimson Tide plays the Clemson Tigers.
There is no doubt that Alabama is rated higher in the game but is Alabama -6.5 worth it. Some football pundits believe the difference point wise between the two teams is just Alabama -3.5 or as low as -3.
Alabama had a better schedule being in the SEC and the Tide has a much better defense than Clemson, but due to the past few big wins by Clemson, the gap between the two teams has been reduced.
The added few points on Alabama in part are because the books know the vast majority of betting will be on Alabama. The opening line was -7, some sharps stepped up early and took the line, and it was quickly pulled back to 6.5.
It is estimated that between as much as 70% of the tickets will be written in Alabama and as much as 65% of the money.
Based upon what the public will lay, the -6.5 is the correct number regardless of what the analytic data or rating says. However, many have seen Clemson play two strong games in the ACC Championship followed by the national semifinal and sportsbooks could have them decidedly underrated.
Oklahoma was the top rated team even higher than Alabama before the Tigers eliminated them on New Year's Eve.
Alabama defeated Michigan State handily 38-0 in the national semifinal and in the SEC Championship knocked off Florida by 14 points.
Alabama entering this game on Monday has covered the number in 6 of its past 7 games, which is making them even more popular with the public in this game.
Clemson, while it has covered in its past two games, did not cover the number in four previous to that.
Prior to Alabama's win over the Spartans, the Tide had lost its past two bowl games with Ohio State being the most recent last season. Clemson on the other had has won as well as covered, as the underdog in its past four bowl games.
The game will come down to the Alabama defense and the Clemson offense. The Tide has not allowed over 16 points in any game over its past 7 games allowing just 256 total yards on average per game.
This game will be a tight one, the UNDER at 51 might be the way to go.