Is the Tony Romo Era Over in Dallas?
November 16, 2016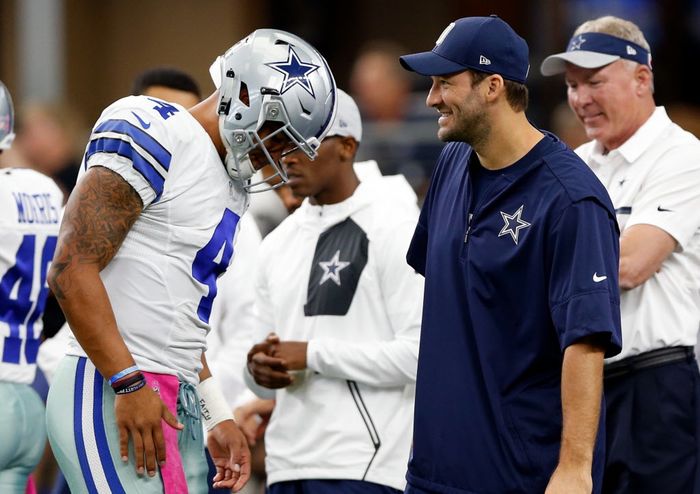 Online sportsbooks love prop bets. Sports bettors might love them even more.
Following a statement on Tuesday that featured Tony Romo talking about his status with the Dallas Cowboys, sportsbooks posted a pair of new props.
It appears that Dak Prescott is here to stay. Even though Jerry Jones the Dallas owner stood behind his veteran quarterback Romo for weeks, he relented somewhat this week.
Jones said that Dak has been having the hot hand and that is what we are going to go with. Jones only confirmed what most people thought. The Cowboys sit atop the NFC East with an 8-1 record after winning eight straight.
Romo was injured during preseason action and was able to nurse himself back to complete health thanks to the way Prescott has performed. However, no one expected Prescott to be one of the league's most efficient quarterback's this season.
Prescott is in the top 10 amongst quarterbacks in yards per attempt, completion percentage and overall quarterback rating.
Romo spoke on Tuesday and said that even though his biggest desire is to be back on the field leading the Cowboys to victory, Prescott has earned the right to play. Romo has not been a backup for any Cowboys quarterback since 2006.
The next question for many is will Romo ever be the No. 1 quarterback in Dallas again or will he ever start again for Dallas.
Next season Romo will be 37 and will Dallas pay him $14 million as a backup? In comparison, Prescott only represents $500,000 on the salary cap for the Cowboys under his four-year deal he signed as a rookie earlier this year.
If Dallas was to wait and trade Romo until next season then the team can cut is dead money by half to $5.5 million that would hit its salary cap.
Therefore, sportsbooks have released a pair of props about Romo's future with the Cowboys.
One prop asks: Will Romo start any game this season for Dallas?
Yes +190, No -240
The second prop asks: Will Romo play for Dallas next season?
Yes +125, No -150.