Josh Rosen Enters Heisman Trophy Conversation
September 6, 2017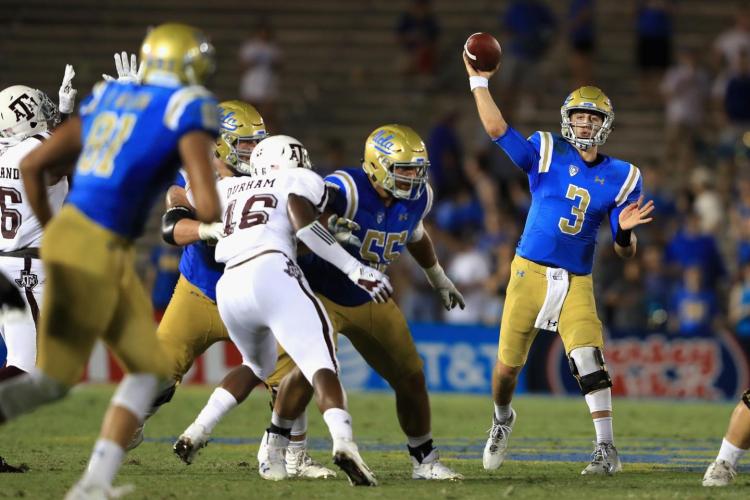 The college football season is just one week old, but if first impressions are worth anything, UCLA quarterback Josh Rosen is at the top of the heap for Heisman Trophy hopefuls.
Sunday night Rosen passed for 292 yards and 4 touchdowns, which is not a bad day for any quarterback. However, those were just his totals for the fourth quarter, as the talented Bruins signal caller rallied UCLA from a 34-point deficit to a 45-44 win over the Texas A&M Aggies.
The winning touchdown pass by Rosen came after he faked spiking the ball with just 43 seconds remaining.
The Bruins comeback was the second biggest in FBS history, after just Michigan State who rallied in 2006 from a 35-point deficit to beat Northwestern.
Rosen ended the game with 491 yards passing and the earlier mentioned 4 touchdown passes. It may be far too early to predict a Heisman Trophy favorite, but Rosen is certainly one of the candidates for the award along with fellow Pac-12 quarterbacks Sam Darnold and Jake Browning.
Darnold was picked by sportsbooks during the preseason as the favorite, but USC struggled in its 49-31 victory over Western Michigan to open the season. Darnold did not throw a touchdown pass but tossed a pair of interceptions.
Last season with USC Darnold started 10 Trojans' games passing for 3,085 yards and 31 touchdowns. In USC's win in the Rose Bowl over Penn State he threw for 452 yards and 5 TDs.
Browning played well in his season opener for Washington, as the Huskies beat Rutgers 30-14. Browning passed for 284 yards and a pair of touchdowns.
Last season, Browning led Washington to the championship of the Pac-12 and one of four places in the College Football Playoff. On the season, he passed for 3,420 yards and 43 touchdowns.
The other top Heisman hopefuls that helped their cause during the first week included current Heisman Trophy holder Lamar Jackson from Louisville, Penn State's Saquon Barkley and Oklahoma's Baker Mayfield.
Mason Rudolph the starting quarterback for Oklahoma State passed for 303 yards and 3 touchdowns, while running for another. He drew the attention of many and is considered a dark horse.
Much will change during the course of the season, but Rosen's performance on Saturday rallying his UCLA team to a victory, proved he belongs in the conversation for the Heisman.