Kareem Hunt Leading Race for NFL Offensive Rookie of the Year
October 1, 2017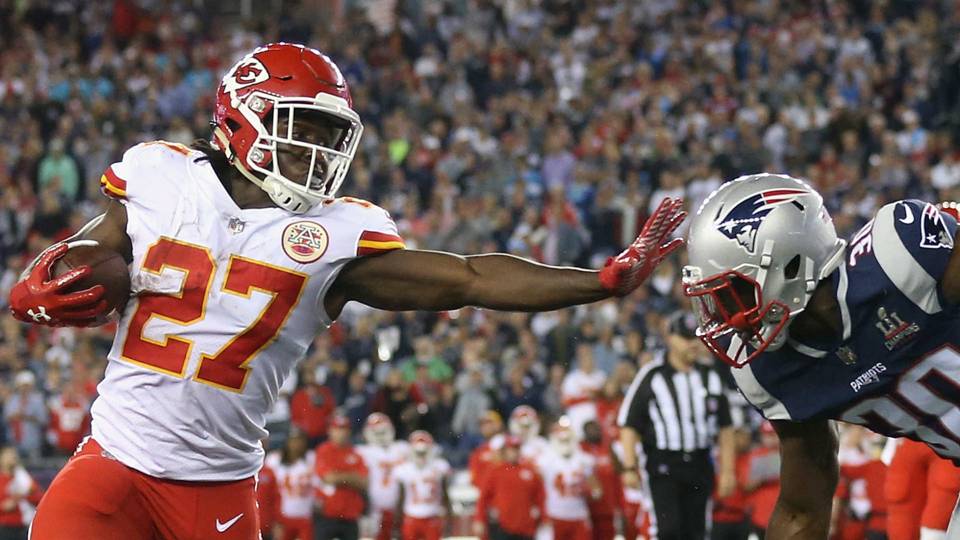 The 2017 NFL regular season is already in Week 4. After the first three weeks, one rookie has separated himself from the rest as the overwhelming favorite to win the Offensive Rookie of the Year award.
Kansas City Chiefs running back Kareem Hunt has only played three NFL games in his career, but is already writing his name in the league's record books. In three games, Hunt has accumulated 538 yards from scrimmage, which is the second most ever by an NFL rookie.
Hunt is now the first NFL player in league history to score a touchdown of 50 yards or more in each of the first three games of his career.
It is not only records he is setting that have separated him from the rest of the rookies in the NFL thus far. Hunt through three games has rushed for 401 yards, which tops the league and is 113 yards more than any other player. He has 137 yards receiving for his 538-yard total from scrimmage.
Hunt is also tied for the NFL lead in touchdowns with six. He has four rushing touchdowns and two touchdown receptions. At this time, Hunt is the (-200) favorite to win the OROY according to several online sportsbooks.
Dalvin Cook (+500) a running back with the Minnesota Vikings has the second shortest odds to win the OROY.
The former Florida State star is turning into an all-around star with the Vikings. Cook is second in the NFL in rushing with 288 yards through three games and has another 82 yards receiving.
Another rookie making headlines is Houston Texans quarterback Deshaun Watson (+750). He leads all NFL quarterbacks in rushing yards and has improved on yards passed and completion percentage in each one of his three appearances.
Watson is facing a stretch of difficult games against the Titans, Chiefs, Browns and Seahawks and if he can play as well as he has or better he could overtake both Hunt and Bell on the futures board for the OROY.
Top Five Odds to win NFL Offensive Rookie of the Year
Kareem Hunt (Chiefs) -200
Dalvin Cook (Vikings) +500
Deshaun Watson (Texans) +750
Leonard Fournette (Jaguars) +1000
Tarik Cohen (Bears) +1000