Kentucky Derby 2018 – An Early Look
March 22, 2018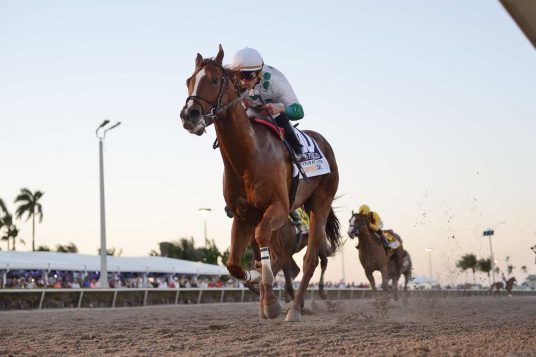 The 2018 Kentucky Derby is still a solid 6 weeks away but the picture is starting to shape up some as to which horses will be favored. It is 144th running of the Kentucky Derby, a race which is widely considered the most famous horse race in the world.
Before the odds become official, a bettor can wager on something called horse racing futures. They are like futures for any other sport. You can bet on a horse now that will in likely be in the Kentucky Derby.
The favorite right now is Bolt d'Oro as a 7/1 favorite. Close behind are Audible at 8/1 and McKinzie at 10/1. Bolt d'Oro has a one point lead in road to the derby with a win at the Grade 2 San Felipe Stakes on March 10 (see video below). McKinzie had originally finished first in the race but was relegated to a second place finish because he drifted into d'Oro's path. The loss was the first in four career races for McKinzie.
A horse named Good Magic is drawing plenty of interest. The colt won the Breeders' Cup Juvenile last year ahead of current favorite Bolt d'Oro. But Good Magic has only raced once this year, finishing third at the Grade 2 Fountain of Youth Stakes on March 3. God Magic is currently 14/1 odds.