Late Covers, Late Scores, Give College Football Bettors Nightmares
September 19, 2016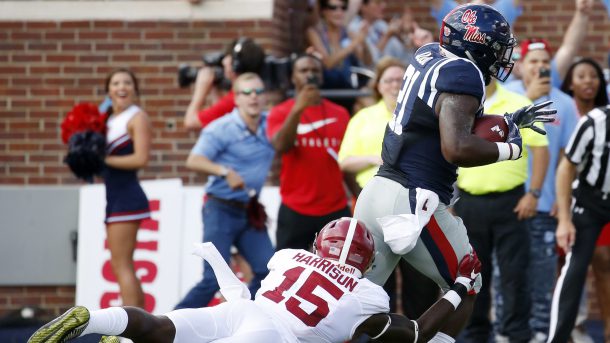 Each week of college football it seems the game will end with your team covering and the point total to one's liking, but with the blink of an eye, the spread goes the other way and the sure bet UNDER cashes OVER.
It appeared that UTSA bettors had the moneyline bet in hand at +1000 late during the third quarter as they led 28-12. However, late in the game Arizona State went ahead 32-28. Much worse, was UNDER bettors at 59 were given a big blow with the Sun Devils scoring a touchdown late to push the game OVER.
In SEC action, moneyline bettors on Ole Miss loved the first half of the game, with the Rebels at one point up 24-3 at home over Alabama. However, the Tide rebounded to take an 18-point lead giving the Tide the cover as 10.5-point chalk. However, Ole Miss scored 13 points over a period of 8 seconds late in the game, giving them the final cover and making those who bet on Alabama walk away in disbelief with empty pockets.
During the third quarter, UCLA was up 17-0 on the road against Brigham Young. That easily covered as 3.5-point favorites. However, the Cougars scored the last 14 points of the game that included a touchdown with only 37 seconds remaining that changed the cover from UCLA to BYU dealing bettors for UCLA a late blow.
TCU led Iowa State by 21 points late in their game. Iowa State kicked a field goal with only 1:29 remaining in the game, while trailing by three touchdowns. Those three points, pushed the point total OVER the 60.5 total, making UNDER bettors shake their heads.
LSU led Mississippi State 23-6 with just over 4 minutes remaining in regulation. The Tigers slacked off, the Bulldogs pushed and scored the final 14 points of the game to turn what looked like an easy LSU cover, to a Mississippi State cover.
Wyoming was leading UC Davis from the FCS by 30 points with just over 4 minutes to play. The Cowboys were 23.5-point chalk and covering, but UCD hit a late touchdown earning a backdoor cover of 45-22 and upsetting more than a few Wyoming bettors.