Latest Odds for Wide Open Belmont Stakes
June 9, 2017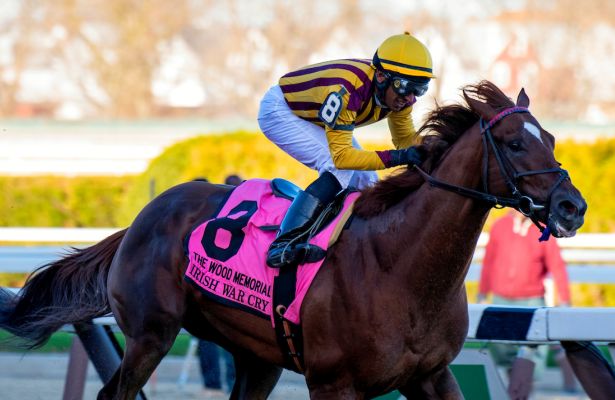 The Belmont Stakes will run on Saturday from Belmont Park in Elmont, New York as the third leg of the Triple Crowns bring to an end another year of the Triple Crown.
The race should be a wide open one after Classic Empire the early betting favorite pulled out due to a foot abscess returning that he suffered earlier in 2017.
Irish War Cry is now the betting favorite for Saturday's race and is currently sitting at 3 to 1. Irish War Cry is making his first start since finishing 10th in the run for the roses.
Two strong winning efforts were turned in by Irish War Cry this spring in the Holy Bull and Wood Memorial. However, he put up two disappointing ones finishing seventh at the Fountain of Youth and the aforementioned 10th at the Kentucky Derby.
If he produces his best Saturday, Irish War Cry could be hard to beat.
Epicharis, based out of Japan, has the second best odds at 7 to 2, but uncertainty has entered his barn.
It came to light on Thursday that on Wednesday Epicharis was given treatment for a lame right front hoof and he did not practice. Thursday morning he did not gallop on the main track but walked the shedrow.
The horse has not run since March 25 in Dubai but his trainers hope he can make the race Saturday. However, the hoof problem and the colt not racing in close to three months makes for a questionable bet.
The horse with the third shortest odds is Lookin At Lee at 11 to 2. The colt will become the only horse this year to run in all three legs of the Triple Crown.
At the Kentucky Derby Lookin At Lee was 33 to 1 but finished second to Always Dreaming. At the Preakness he was 9 to 1 and finished fourth with a rally down the back stretch.
Senior Investment is next up at 13 to 2. The colt finished third at the Preakness and won his previous outing to that, in the Lexington Stakes.
The 2017 Belmont Stakes will be run Saturday June 10 at 6:37 p.m.