Los Angeles Dodgers Open as World Series Favorites
October 22, 2017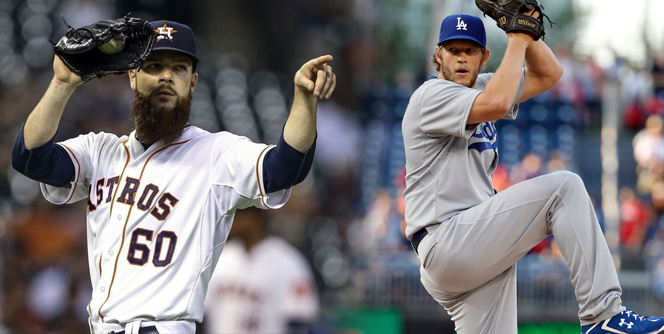 The 2017 World Series is now set, and to the surprise of very few, the Los Angeles Dodgers are favored to win their first title in the Fall Classic since 1988.
Sportsbooks opened the Dodgers at -140, with the newly crowned American League Champions the Houston Astros at +120. The Astros beat the New York Yankees 4-0 on Saturday night in Game 7 of the AL Championship Series to claim their spot in the World Series.
The Dodgers' 104 wins were the most in baseball this season and thus far through two previous series' Los Angeles is 7-1.
The Dodgers swept Arizona in the National League Division Series 3-0, and won the NL Pennant after defeating the Chicago Cubs in five games. During the postseason, the Dodgers have outscored their opponents 48-19.
Houston beat the Boston Red Sox in four games in their ALDS, before needing the full seven games to knock off the Yankees in the ALCS. Houston posted 101 wins during the regular season.
Aside from Los Angeles having the home field advantage, the Dodgers are favored to win because of their pitching. Los Angeles is No. 1 in baseball in ERA for starters at 3.38 and No. 4 in ERA for bullpens at 3.37.
During the postseason, the Dodgers bullpen has allowed just three earned runs over 28 2/3 innings and currently has not given up a run over the last 23 innings pitched.
However, Houston owns baseball's No. 1 offense, as the Astros during the regular season were No. 1 in runs scored, batting average and OPS, and No. 2 in home runs.
Game 1 of the 2017 World Series will be played on Tuesday in Los Angeles, with an epic matchup on the mound, when the Dodgers will send three-time Cy Young Award winner Clayton Kershaw against Dallas Keuchel, a winner of one Cy Young, for the Astros.
The opening line for Game 1 on one online sportsbook has Los Angeles at -153 and Houston +143.
When the season began back in April, Los Angeles opened at 10 to 1 and Houston to 12 to 1 to win the World Series.