MLB Free Pick: Cardinals vs Cubs
July 19, 2018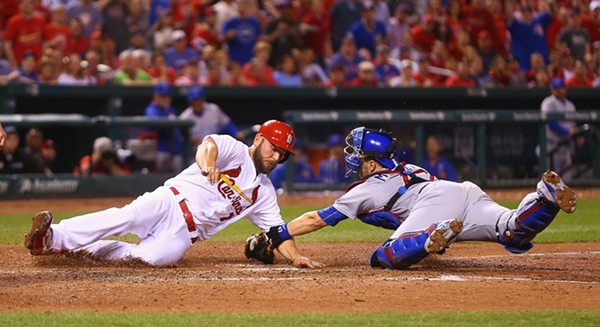 Major League Baseball returns to action on Thursday following the All-Star break with one game when the St. Louis Cardinals visit the Chicago Cubs. The Cubs hope their momentum leading up to the break is not lost when they face a Cardinals team that just fired its manager Mike Matheny after playing poorly just prior to the break.
The current line has Chicago favored at -151, St. Louis +131 and the over/under run total not yet announced.
This will be a five-game series at Wrigley Field and feature the Cubs having won six of their past eight and creating some distance between them and the remainder of the National League Central and a Cardinals team that has disappointed its fans and front office.
Chicago swept the San Diego Padres leading up to the break with 18 runs scored in their final two wins of that series.
Chicago is expected to have center fielder Albert Almora Jr back for Thursday's game. The Cubs right fielder Jason Heyward and second baseman Javier Baez enter the game with five-game hitting streaks.
St. Louis must try to rebound from the firing of Matheny and enter this game having lost four of their past six games. The Cardinals under interim manager Mike Shildt will play the Cubs eight times over the next 10 days.
On Wednesday, St. Louis placed Miles Mikolas the team's All-Star pitcher on paternity leave. Mikolas could return to play before this five-game series ends.
St. Louis shortstop Yairo Munoz has hit a pair of home runs and knocked in seven runs during his current hitting streak of seven straight games.
The Cubs will start right-hander Kyle Hendricks. This season Hendricks is 6-8 with an ERA of 3.92.  The right-hander gave up five hits and two runs in his last outing to beat San Diego 11-6. In his 11 career starts versus the Cardinals, Hendricks is 3-2 with a 3.42 ERA. On June 16, he defeated the Cardinals in his only start this season against them 6-3.
St. Louis will start Carlos Martinez. The right-hander is 6-5 with a 3.08 ERA. Martinez has won three of his past four starts, but gave up three runs in six innings last Friday to lose to Cincinnati 9-1. In 25 appearances during his career including 15 starts, Martinez is 4-4 versus the Cubs. Martinez started the June 16 games against Chicago in which Hendricks won. In that game, Martinez allowed seven hits and three runs while walking six in five innings but did not factor in the decision.
Prediction: the Cubs entered the break on a high, while the Cardinals entered on a low. Expect the two to start the same after the break. Martinez has had control problems, walking six against the Cubs in June and Chicago will use that to their advantage to win 7-3.