MLB Free Pick: Phillies vs Nationals
June 24, 2018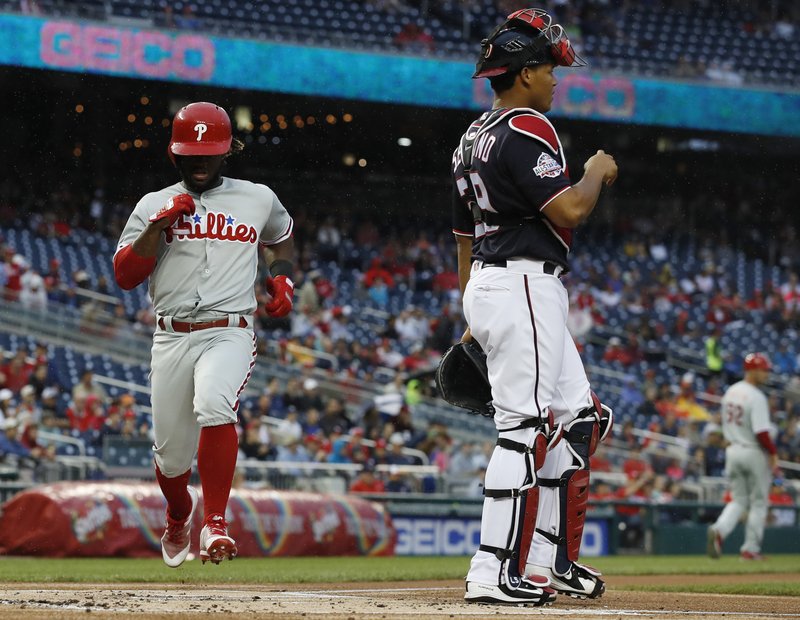 Hitting continues to plague the Washington Nationals and because of that the team is slowly heading in the wrong direction in the National League East standings. Washington looks to break that trend and avoid being swept when they play the Philadelphia Phillies at home in the nation's capital on Sunday in the last game of their current three-game series.
Odds makers have a current line with Washington favored at -120, Philadelphia +110 and the over/under 9.
The Nationals have lost nine of 12 and over that period have averaged just three runs per game. In the first two of the series against the Phillies, Washington has been outscored 17-5. The middle of Washington's batting order is not producing what it should be. All-Star right fielder Bryce Harper has had a terrible month of June. In 19 games during June, Harper has a .149 batting average with one homer, five RBIs and 24 strikeouts.
Philadelphia leapfrogged the Nationals in the standings with wins the past two games to take over second place. The Phillies have nine wins in their last 12 games played and are pressuring the first place Atlanta Braves.
Philadelphia third baseman Maikel Franco was 4-for-4 Saturday. His four hits matched his total from the prior 11 games.
Nick Pivetta will start for Philadelphia on the mound. The right-hander is 4-6 with a 4.08 ERA. Pivetta has not won in his past five starts but pitched a dominating game in his last start versus St. Louis. Pivetta struck out 13 to set a new career high in 7 1/3 innings, but gave up four hits and a pair of runs and did not get a decision in the game. The Canadian was not as sharp May 4 in Washington when he gave up five hits and six runs while walking three  in just over one inning of work serving up two homers to Harper.
Jefry Rodriguez will start on the mound for Washington. The right-hander is 0-0 with a 4.66 ERA and will be making just his third appearance and second start in the majors. Rodriguez pitched shutout baseball for 4 2/3 innings in relief at Atlanta June 3, but on Tuesday in his only major league start Rodriguez gave up four hits and five runs in five innings of work versus the Baltimore Orioles.
Prediction: The Phillies will sweep the Nationals. Pivetta will keep the Nationals' bats quiet for another game, while the Phillies offense led by red-hot Odubel Herrera will make life miserable for Rodriguez and the Nationals. Phillies 7-2,