MLB Free Pick: Yankees vs Indians
July 12, 2018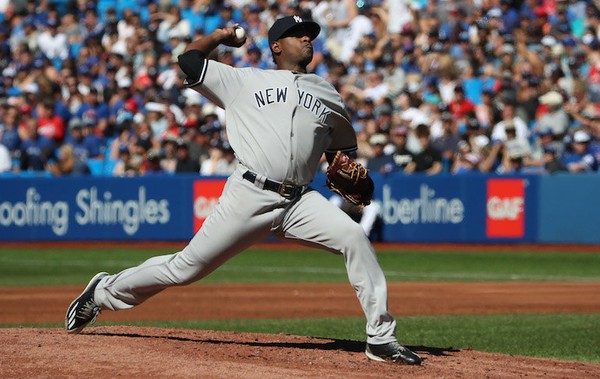 One of Major League Baseball's best pitching matchups since the season started will be under the spotlight when the New York Yankees visit the Cleveland Indians Thursday for the first game of their four-game series.
The Yankees will have All-Star pitching ace Luis Severino on the mound, while the Indians will have Corey Kluber, a two-time Cy Young Award winner on the mound.
Odds makers currently have a line with New York favored at -120, Cleveland with +100 and the over/under run total at 7.
Severino, who has 14 wins to lead the majors, will face an Indians lineup that on Wednesday defeated Cincinnati 19-4 snapping a losing streak of four straight games and improved to 29-17.
The Yankees avoided losing their series against the Baltimore Orioles, the team with the worst record in baseball, with their 9-0 win Wednesday. Greg Bird hit a grand slam, the first of his career, while Giancarlo Stanton had four hits and a pair of RBIs. Stanton has 10 hits in 23 at bats over his past five games and is now batting .276 for the season.
Both Aaron Judge and Didi Gregorius from the Yankees enter the series with six-game hitting streaks. New York is 3-0 this season against Cleveland.
New York's Severino is 14-2 with a 2.12 ERA. In his last outing on Saturday, Severino gave up five hits and three runs including a pair of homers across five innings yet still defeated Toronto for his fifth straight win. That start was considered a "non-quality" start and he has had just five in his 19 appearances this season. He has 143 strikeouts in 123 1/3 innings pitched.
Cleveland leads the AL Central by 8 ½ games over the Minnesota Twins. In Cleveland's rout of the Reds, Jose Ramirez hit two home runs and now has 27 for the season. Ramirez needs just one more stolen base to become the second Indians player to post at least 20 home runs and 20 stolen bases prior to the break for the All-Star Game.
Cleveland's Kluber is 12-4 with a 2.49 ERA. He pitched seven shutout innings his last time out but was not able to post win number 13. The 32-year old is 7-1 with a 1.42 ERA in his 10 starts in Cleveland this season. He has 123 strikeouts in 126 1/3 innings and has held opponents to a batting average of .207.
Prediction: Both teams are coming off big wins their last time out, but this game should be low scoring with the pitcher's duel everything it is being hyped up to be. Severino and Yanks win 3-2.