MLB Free Pick: Yankees vs Phillies
June 26, 2018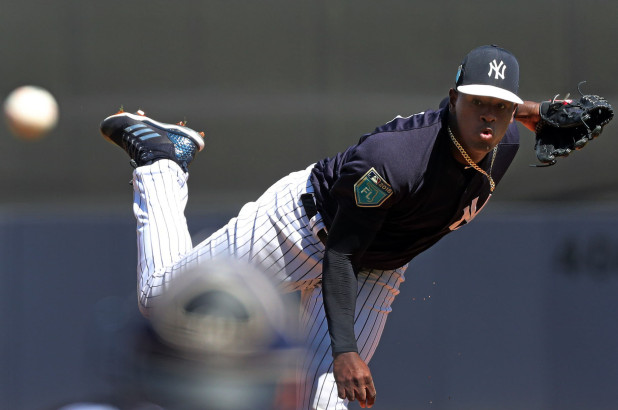 It is not often the New York Yankees visit Citizens Bank Park in the City of Brotherly Love, but they do this week as they face the Philadelphia Phillies on Tuesday in an interleague showdown.
Top sportsbooks have the current line with the Yankees as -220 favorites, with the Phillies +180 and the over/under 7.5.
The Yankees have not played in Philadelphia since 2009 when they faced the Phillies in the World Series. On Tuesday, the Yankees look for their second straight win over the Phillies after a 4-2 victory Monday in the series opener. Yankees' pitching held the Phillies to just three hits on Monday.
Prior to this series, the Phillies have won four straight series, but will have to win tonight and Wednesday's final to continue that streak. Three of the four series wins for the Phillies were against the Brewers, Cardinals and Nationals who all having winning records this season.
Philadelphia Manager Gabe Kapler told reporters on Monday that his club his embracing its tough stretch in the schedule.
The Yankees have the majors' best record at 51-25 and Monday's win ended their second worst losing streak of three straight games.
New York will have Luis Severino starting on the mound. The right-hander is 11-2 with a 2.24 ERA. In his most recent outing, he allowed a season high eight hits, while giving up three runs to the Seattle Mariners, but New York won 4-3.
Severino said that against Seattle he missed too many pitches and never felt comfortable, but his teammates bailed him out by scoring runs for him.
Severino will be making his debut against Philadelphia and just once this season in 16 starts has given up more than three earned runs in one game. The Yankees have won 14 of Severino's 16 starts this season.
Jake Arrieta will start opposite Severino for the Phillies on Tuesday. Arrieta is 5-5 with a 3.42 ERA. When he pitches, the Phillies are 6-8 in his 14 starts. June has been a rough month for Arrieta as his ERA through four starts is 6.97. In his most recent outing, Arrieta gave up four hits and three runs while striking out five across six innings versus the Cardinals.
Arrieta has pitched eight times against the Yankees during his career and is 3-1 with a 3.83 ERA in those eight appearances.
Giancarlo Stanton and Neil Walker have the most experience facing Arrieta with Stanton going 2-for-11 including a home run and Walker is batting .243 across 37 at-bats against the right-hander.
Prediction: Severino does not usually make two straight mediocre starts. The Yankees may need to see Arrieta once through the order, but should get to him by the fourth or fifth inning. Yankees win 8-2