NBA Finals Games 1 and 2 Have Been Quite Predictable
May 30, 2017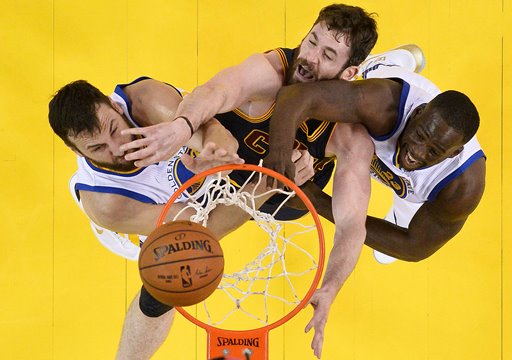 This season's participants in the NBA Finals turned out more predictable than most with the Cleveland Cavaliers, the defending NBA Champions reaching the finals against the Golden State Warriors for the third consecutive season.
It may just be as predictable betting on the first two games of the NBA Finals if you look back at the against the spread figure for the past 25 seasons.
The favorite in Game 1 for that period is 17-8 ATS or has covered the number 65% of the time, including a 14-4 ATS run the past 18 seasons or 78% and an 11-1 ATS run the past 12 seasons covering an incredible 92% of the time.
Golden State has opened as 7-point chalk at home for Game 1 on June 1. The Warriors have covered the past two Game 1 showdowns against the Cavaliers to open the NBA Finals.
In 2015, the Warriors won 108-100 as 6-point chalk and in 2016 won 104-89 as 6-point chalk.
Dating back 25 seasons, favorites in Game 1 have averaged giving 6.5 points a game, which is very close to the 7-point margin the Warriors opened with for this season's Game 1.
Game 2 is nearly as predictable as Game 1 in the NBA Finals the past quarter century. However, the underdogs have taken ahold of Game 2, as Game 2 favorites are 9-15-1 ATS the past 25 seasons a cover rate of just 36%, including just 2-7 ATS over the past 9 seasons.
More surprising than the underdogs covering at a 64% clip in Game 2 is that the dogs have won outright in Game 2 on 12 occasions the last 25 seasons.
However, last season Golden State as 6.5-point chalk did cover during Game 2 against Cleveland with a 33-point rout over the Cavaliers, but lost to Cleveland by 2 points in 2015 in Game 2 as home chalk of 7.5 points.
Game 3 the past 25 seasons had the favorites at 10-14-1 ATS, while Game 4 the favorites were 12-12-1 ATS. Game 5 has the favorites at 11-11 ATS dating back 25 seasons, as some series have gone just four games. Game 6 favorites over that same period are 6-10 ATS while favorites in Game 7 are 3-2 ATS.
Thus far during this postseason the Warriors and Cavs are a combined 16-8-1 ATS covering 67% of the time.