NBA Playoff Matchups Set, NBA Championship Odds Released
April 13, 2017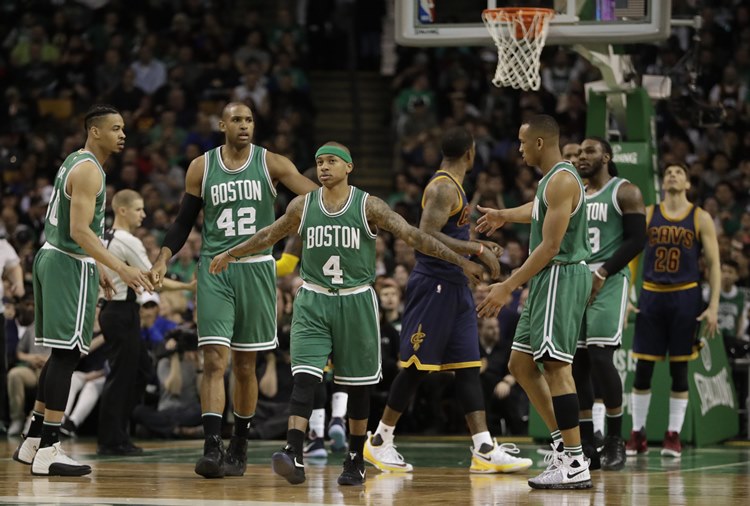 The 2016-2017 NBA regular season has come to a close. The eight teams from each conference and the matchups for the first round are complete with a few last minute details falling into place on Wednesday the regular season's final day.
The Boston Celtics clinched the No. 1 spot in the Eastern Conference. It was the first time the Celtics have done that since 2008. During the first round, the Celtics will play the Chicago Bulls.
The Bulls clinched a playoff berth as the No. 8 seed after beating Brooklyn on Wednesday. The No. 7 seed was secured by the Indiana Pacers, which means they will face the Cleveland Cavaliers the No. 2 seed and defending NBA champions in round one.
Out West, home court advantage for the No. 4 seed vs. the No. 5 seed was clinched by the Los Angeles Clippers. The Clippers open their series in the first round at home against Utah on Saturday.
A big series in the opening round out West will feature the Houston Rockets the No. 3 seed against the Oklahoma City Thunder the No. 6 seed. The league's top two candidates to win the MVP James Harden with the Rockets and Russell Westbrook for Oklahoma City will battle against one another.
Four of the eight first round series will begin on Saturday, with the other four starting on Sunday.
Odds makers have remained rock solid with their belief that a third straight NBA Finals series to determine the championship will be played between the Golden State Warriors and Cleveland Cavaliers.
Golden State owns the shortest odds to win the NBA title sitting at 10 to 23, while Cleveland is at 7 to 2.
San Antonio has the third shortest odds to win the title at 15 to 2. There is a slight separation after San Antonio, as both Boston and Houston are 30 to 1 to win the NBA title.
Odds to Win 2016-2017 NBA Title
Golden State Warriors 10 to 23
Cleveland Cavaliers 7 to 2
San Antonio Spurs 15 to 2
Boston Celtics 30 to 1
Houston Rockets 30 to 1
Toronto Raptors 40 to 1
Washington Wizards 60 to 1
Los Angeles Clippers 60 to 1
Utah Jazz 100 to 1
Milwaukee Bucks 200 to 1
Indiana Pacers 250 to 1
Memphis Grizzlies 250 to 1
Oklahoma City Thunder 250 to 1
Atlanta Hawks 300 to 1
Chicago Bulls 300 to 1
Portland Trail Blazers 300 to 1