NCAA Basketball Pick: Houston vs UConn
March 3, 2018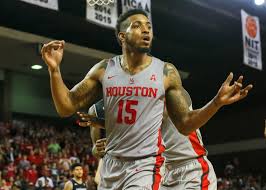 UConn at Houston tips off Sunday afternoon at 4pm EST. The game is being played at H&PE Arena at Texas Southern because there are renovations occurring at Hofheinz Pavilion. The early line has been issued by BetOnline (Rating A) and sister sportsbook SportsBetting (Rating A) as Houston -16 points. This is as of 2:30pm EST Saturday and may be subject to change as the bets come in.
Connecticut is having a bad season. Gone are the days of glory and expectations to win the NCAA tournament every year. They are 14-16 SU and just 10-19 ATS. They only score 67 PPG but allow 72 PPG, a recipe for a bad season. They are coming off a win vs Temple so there is wind in the sails. Jalen Adams led the Huskies with 25 points in that game and showcased what this UConn team is capable of when they are playing well.
Houston is having a good season. They are ranked 25th in the country and are 23-6 SU and 15-9-1 ATS. They score 77 PPG while only allowing 65 PPG. They are currently on a two game win streak having defeated SMU and East Carolina.
Head to Head
Houston has the advantage 5-3 SU. The teams are knotted at 4-4 ATS against one another. These are two teams that really have not played each other a lot so the 8 game sample is a deep cut, meaning it goes all the way back to 1999. Therefore the relevance of this stat is moot.
In their last game playing one another UConn beat Houston 74-65. That was a year ago this month. UConn was favored by 4.5 points in that game.
Trends and Stats
Houston is 8-1-1 ATS at home this year. But, is this game truly a home game? It is being played in a foreign stadium, though it is in the same city and state. There is something to playing in the gym in which you always play, the familiarity, that gives it part of the home court advantage. For this reason I am only giving Houston a 1.5 home court advantage rather than the usual 3 points.
Houston has won 7 of their last 8 games. This team is on a bit of a surge and if they can solve their problems shooting from beyond the arch, they will win this game easily.
UConn is just 1-6 ATS in their last 7 games overall. They are not covering basketball games. However, This does not dissuade me in recommending UConn +16 points. In my opinion the line should be no more than 12 points. Uconn can play tough when backed into a corner. They may be a handful for Houston in this game. The line will change but that should not affect this pick. Take the Huskies.