NCAA Football: UCF vs. Memphis Free Pick
December 2, 2017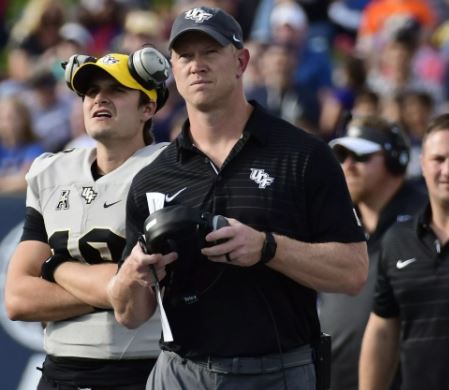 It's not very often you get a chance to fix the blemish on your sparkling record by replaying the only team to beat you in a college football season. But today at 12 noon EST Memphis will get a chance to do exactly that when they play UCF in the American Athletic Conference Championship game.
The series started off bizarre enough between the two teams. They were originally slated to play each other back on September 8th but there just happen to be a hurricane hitting Florida around that time and they postponed the game to September 30th. In the interim both teams went undefeated against some quality foes. Memphis beat then #25 UCLA by a score of 48-45 and also notched a win against Southern Illinois 44-31.  UCF only played one game in that three week period beating up on Maryland 38-10. In fact, UCF only played one game in the month of September when they finally squared off against Memphis on Sept. 30th.
It was a route. UCF pounded Memphis 40-13. Of course Memphis took the loss hard but didn't take long to gather themselves. They went on to reel off seven wins in a row and beat a few quality teams along the way.  They best teams they beat were Houston and Navy.
UCF reeled off eight wins after playing Memphis and ended the season 11-0.  They beat Navy and South Florida as their toughest games in that stretch. The season has been so amazing that head coach Scott Frost popped up on everyone's radar. Most importantly, he popped up on Nebraska's radar. If you haven't heard, Nebraska is his alma mater and he won a national championship as QB for that team 20 years ago. And that brings me to the angle which I am taking when handicapping this game.
Apparently, Scott Frost will announce that he is taking the Nebraska job after the game today.  I don't know about you folks but this seems like something you should be dealing with when the season comes to an end or at least in the big gap between the championship games and the bowl games.  Has he really devoted hours this week to talking to Nebraska and negotiating a contract price? Everything is pointing to yes.
The line was issued last weekend. It was issued at the same number it is now. UCF -7. It hasn't budged. I already thought to myself that this would be a great game and Memphis may really have a shot to cover or win outright. Now that I know the entire week on UCF's side has been loaded with distractions I have to place a pick on Memphis +7.