New AFC Coaches Will Impact Wins and Points
August 14, 2016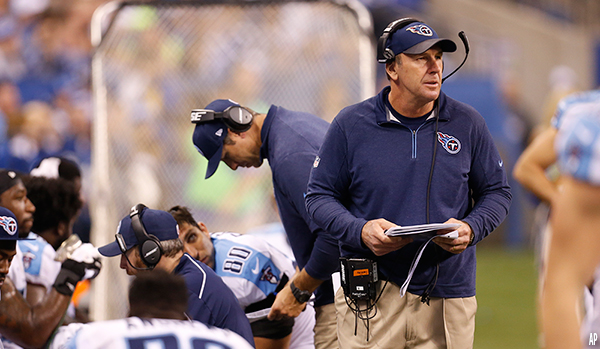 When the NFL regular season rolls around on September 8, it is good to know what teams will have new head coaches. The coaches will be adding news systems on both sides of the ball and could affect how many points teams score and how many they give up.
In the AFC there were three head coaching changes during the offseason.
Adam Gase – Miami Dolphins
Gase arrives from the Chicago Bears and questions have already started to swirl about how successful he will be. He left a dysfunctional team in the Bears, but arrives at one even more dysfunctional. The running game for Miami is nearly nonexistent and quarterback Ryan Tannehill never has much time in the pocket to pass. He was sacked more times than all other QBs in the NFL over the last two seasons.
This will be mostly a rebuilding season for Gase as many players left to play elsewhere.
Mike Mularkey – Tennessee Titans
Mularkey is not actually a new head coach since he served as the team's interim coach during last season from about the midpoint on and the Titans were 2-7 with him on the sidelines.
However, he has brought in numerous coaches since being named the head coach. Dick LeBeau will run the defense, Terry Robiskie the offense and others include Russ Grimm, Sylvester Croom, Bob Bratkowski and Bobby April.
However, no coach in the world will win games if the talent is not there. The Titans passing game has Marcus Mariota and the running game added DeMarco Murray, but it is the defense that needs a tune up.
Hue Jackson – Cleveland Browns
Cleveland has a completely new coaching staff led by Hue Jackson. The Browns will also have a new starting quarterback in Robert Griffin III. The Browns have never reached the Super Bowl in the 50 years the game has been played. Surprise, they will not reach it this year either.
Cleveland has had two winning season over the past 15 and is coming off a 3-13 season. If Josh Gordon returns to wide receiver following his four-game suspension and stays out of trouble, the offense could be strong with RGB III in command.
When making wagers always be sure to see how coaches do against opposing coaches, or how they fared offensively or defensively if their prior coaching post was as an OC or DC.