New England Helps Save Sportsbooks in NFL Week 1
September 13, 2016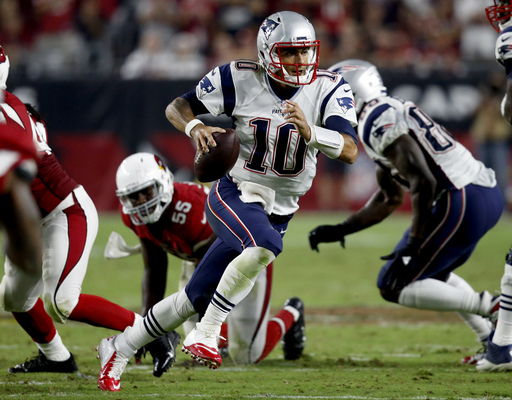 As Sunday of Week 1 of the NFL regular season was winding down, sportsbooks needed help from New England, which has been a nemesis for the books for many years.
To avoid losing the day, online and casino sportsbooks needed the Patriots, an underdog to cover the line without Tom Brady and on the road against a tough Arizona Cardinals team on Sunday night. The outright win by New England would just add to the sportsbooks' winnings.
As New England announced players such as Rob Gronkowski would not play in Week 1, sportsbooks kept increasing the spread from Arizona -5 up to -9.5 when the kickoff was made Sunday evening.
Action on nearly all online sportsbooks and casinos in Vegas was heavily on Arizona. Some books had up to four times the amount of money on the Cardinals as they had on the Patriots. For each parlay card including the Pats, seven had Arizona.
One online site was said to be holding 80% of its money on the Sunday Night game on the Cardinals.
New England not only covered the spread, but won outright 32-21. For many bookmakers, rooting for New England was something they have not been accustomed to of late due to the Patriots great success and popularity amongst the public bettor.
Since New England won Super Bowl XXXVI as a 14-point dog over the St. Louis Rams, the Pats have been able to cover the spread over 57% of the time, which is the best ATS record for the NFL over that span.
New England was amongst five other underdogs that covered the number on Sunday, including the Jacksonville Jaguars and Miami Dolphins.
Miami was a 10.5-point dog and lost 12-10, while Jacksonville was a 4.5-point dog at home and lost 27-23 to Green Bay.
The Detroit Lions were underdogs as well in their Week 1 clash against Indianapolis, but the Lions prevailed outright 39-35.
Pittsburgh ended the hopes of underdog upsets on Monday as they dominated the Washington Redskins 38-16. Sharp money was behind the Redskins in the game, while the public took the Steelers.
Losses that hurt the books on Sunday included Houston's win over Chicago and Tampa Bay beating Atlanta.
Week 1 was just the beginning as 16 more weeks of regular season NFL action is on the way with Week 2 starting Thursday with the Buffalo Bills hosting the New York Jets.