New York Knicks Have Most Bets to Win NBA Title
October 27, 2016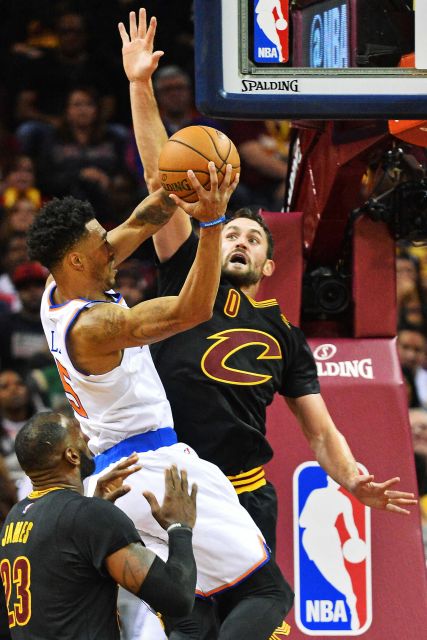 The 2016-17 NBA season opened on Tuesday night. One of the games featured the defending NBA champion Cleveland Cavaliers versus the New York Knicks.
New York has been a popular pick as a long shot to win the NBA title even though their playoff appearances have been few and far between of late.
Golden State tipped of the new NBA season as the overwhelming favorite to win its second title in three seasons, but no team has attracted more overall bets on many top sportsbooks than the New York Knicks.
Of course, that could change after the Knicks were crushed in their opener by Cleveland 117-88.
New York opened as a long shot of 100-1 back after the NBA Finals concluded in June. During the offseason, bettors bet down the Knicks to 60 to 1 on many sportsbooks.
The long shot bets for the Knicks are not that big, but what is frightening for some sportsbooks is the number of bets overall on the Knicks. Some sportsbooks have tickets on the Knicks that average only $25 but those numbers can add up quickly if the Knicks were to win.
However, the Knicks making the playoffs is not a sure thing, much less, winning the title. New York has missed the postseason every year since 2013 and last season were a disappointing 32-50.
During the offseason, the Knicks lineup was shuffled by its president Phil Jackson adding veterans such as Joakim Noah and Derrick Rose from the Chicago Bulls to join high scorer Carmelo Anthony and big man Kristaps Porzingis.
Following Golden State on the futures board were the Cavaliers, San Antonio Spurs, Boston Celtics and Los Angeles Clippers.
While New York was taking in the most number of tickets on sportsbooks, the big money has gone with Golden State.
One well-known online sportsbook said that almost 35% of all the money bet on the NBA Futures for the NBA title has been placed on Golden State.
Things did not start out too well for the Western Conference champions as they were routed in their opening game by San Antonio 129-100.