NFL Free Agent Signings Affecting Super Bowl 51 Futures
March 11, 2016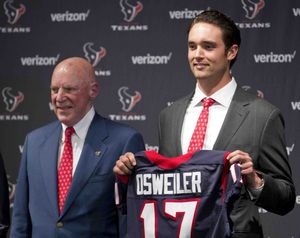 Free agents signing started this week and Super Bowl odds have been adjusted in just a few days time. On Monday, Peyton Manning announced his retirement from the NFL and just two days later Brock Osweiler signed as a free agent with the Houston Texans.
The Broncos on most sportsbooks went to 25 to 1 from 15 to 1. At the same time, Houston due to its recent acquisition was moved from 40 to 1 odds to 20 to 1.
The blow to Denver was significant. In a span of three days they team went from two strong quarterbacks to none.
Last season the offense for Houston was awful, but they hope with this acquisition things will turn around for them. Houston has a strong coach, a tough defense and now a talented quarterback.
Houston's defense is what kept them close in most of their games during the regular season. In seven games, the Texans defense allowed 10 or fewer points. The Texans were also bolstered by the signing of Lamar Miller a running back from Miami to a deal of four years for $26 million.
Denver's troubles are not likely over. They have already lost Malik Jackson a defensive tackle. Linebackers Brandon Marshall and Danny Trevathan and Omar Bolden a defensive back could be the next group of players to leave.
On offense, C.J. Anderson signed an offer sheet with the Miami Dolphins and Denver has five days to match it or lose the player. Ronnie Hillman could be leaving as well.
Despite all this movement, and more is likely to take place, some books have kept both the Broncos and the rest of the league with the same Super Bowl Futures.
A number of books said they were not convinced on Osweiler at quarterback and that they had based their odds on the Denver defense more so than its offense.
Nevertheless, the Broncos are now in need of a talented quarterback with the highest rated still out that being Ryan Fitzpatrick. The Broncos also could acquire Robert Griffin III.
Then there is talent at a lower level such as Matt Cassell, Matt Flynn, Jimmy Clausen and Kellen Clemens.
All of a sudden, it does not seem so bad if the Broncos could have Peyton Manning all over again.