NFL Free Pick: Bengals at Titans
November 10, 2017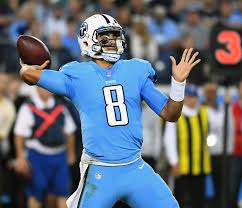 The Cincinnati Bengals will be visiting the Tennessee Titans on Sunday, November 12, 2017. The game starts at 1:00 pm EST. The spread is Tennessee -4.5 and the total is 40.5
Coming into the game the Bengals are a disappointing 3-5 SU as well as against the spread. Tennessee is 5-3 and 3-4-1 ATS. Interestingly enough, both teams allow more points than they score. The Bengals are very inconsistent with scoring and this is the main reason they are just 3-5. Tennessee's inconsistency is because the health of their Ace QB, who has been hampered all year. But now Marcus Mariota is at full strength and his play is showing it.
Cincinnati's top receiver AJ Green was initially expected to be suspended because of an on-field incident last weekend. The league has since decided that no suspension is warranted.
How this game will play out:
We expect Mariota to be firing on all cylinders and Tennessee should be able to put up some numbers. The weather should not play much of a factor based on forecasts.  Cincinnati's defense is good enough to stall some drives and make Tennessee punt. We are looking at Tennessee scoring about 24 points.
Cincinnati should be able to score some too. AJ Green may get a TD this weekend and so will a RB but we cannot see Cincy scoring any more than 21 points. The spread is too close to call either way but this prediction leads us to take the OVER 40.5 points.
You can get more NFL betting insight and matchup information here.