NFL Lions Favored to Win NFC North, College Contenders Fall
November 18, 2016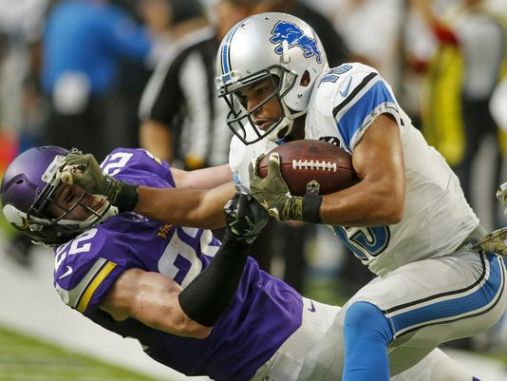 Following a start to the NFL season of 1-3, the Detroit Lions won four of five and now sit at 5-4. The record does not look to be too impressive but it is looking solid in what has become a weakened NFC North.
Last week, Minnesota lost its fourth consecutive game, while Green Bay lost its third straight. Detroit had a bye week but still moved up to a tie for first place in the division.
Following Week 4, when Detroit was just 1-3, the Lions had odds to win the division of just 35 to 1. At that same time, the Packers sat at 5 to 7 and Minnesota was 11 to 10.
Even after Detroit's last victory before the bye the Lions had only the third best odds to win the NFC North. However, both Minnesota and Green Bay lost during Week 10 and the two fell to 7 to 4, while the Lions moved to favorites to win the division at 8 to 5.
The Lions were a long shot at 100 to 1 two weeks ago on Super Bowl LI futures boards. However, after last week, their odds have been shortened to 40 to 1. In comparison, the Carolina Panthers defeated New Orleans on Thursday night, but are below the Lions on the Super Bowl futures board at 60 to 1.
College Football
After a weekend full of upsets in college football with three of the top four teams losing, the odds were bound to be reshuffled.
Clemson's loss moved the Tigers to 12 to 1 from 7 to 1, Michigan dropped to 15 to 1 from 5 to 1 and Washington sat at 20 to 1 after falling from 6 to 1.
Louisville benefited from the other teams' losses to move to 6 to 1. However, on Thursday, the Cardinals lost to Houston and are likely out of the running for the national title.
Ohio State's odds were shortened to 2 to 1 and are second behind Alabama for the top spot in the country.
With the many upsets, two other teams Washington State and Penn State now have opportunities to reach the College Football Playoff. The two at one point during this season sat at 9,999 to 1 to win the title but are both sitting today at 50 to 1, which is ninth best overall on the futures board.