NFL Week 2: Injuries That Impact Betting
September 16, 2016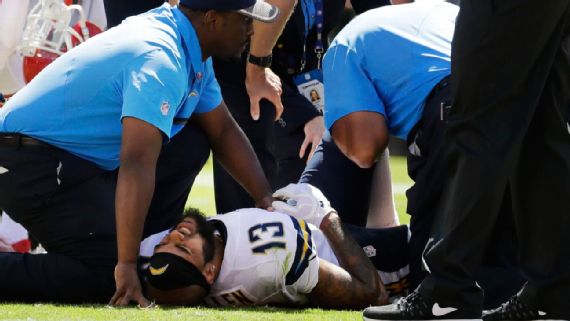 Week 2 of the NFL is underway and as it does each season, the injury bug has already hit some players, which in turn affects team play and when it comes to betting on games.
Here are a few injuries that will matter the most and could impact the odds of winning or losing.
The Kansas City Chiefs have already been hit hard by injuries to their offensive line. Parker Ehinger the Chiefs starting left guard suffered a concussion Wednesday in practice, while Laurent Duvernay-Tardiff the starter at right guard sat out Thursday's practice due to a high ankle sprain.
Duvernay-Tardiff is not going to be 100% even if he is able to play. With two starters likely missing the game, the offensive line for the Chiefs will be affected and that group is often overlooked by bettors. Add to that, the Chiefs will be on the road for Week 2.
Keenan Allen a starting wide receiver for the San Diego Chargers is one of just a handful of receivers is a do-everything for the offense. He tore his ACL and will miss the rest of the season.
Before his injury, the Chargers scored three touchdowns on just three possessions with six chances being converted for first downs on third down. However, without him, the Chargers converted just 1 of 9 third down conversions.
The Cleveland Browns will be without Robert Green III their starting quarterback. What little offense the Browns could muster in Week 1, will be even less in Week 2 with RGB III sitting.
The offensive line of the Oakland Raiders has also taken it on the chin from injuries. Three starters on the offensive line and one back up were all out of practice Wednesday. One backup player on the line also missed the Raiders practice.
In this game, the Raiders were favored when it opened at -4.5 over the Atlanta Falcons. Oakland would likely have been as much as a one touchdown favorite if the injuries were not so worrisome.
One report has both Jackson and Hudson playing, so it is worth looking at the injury reports right up to game time on your favorite sportsbooks.