Odds Makers Adjust 2016-17 NBA Title Odds After Durant Signing
July 6, 2016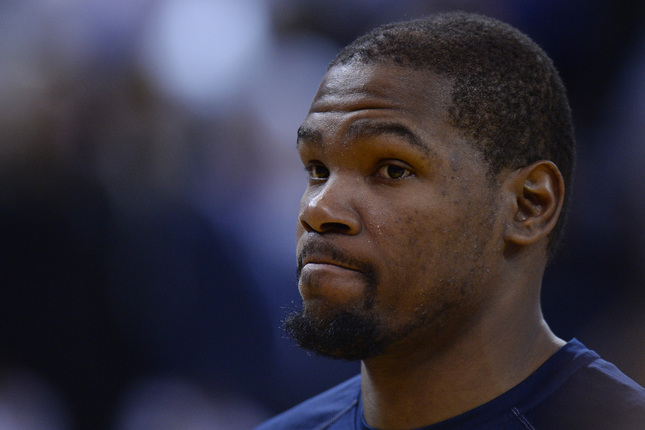 All NBA bettors now know that the biggest move during this summer's NBA free agent marketplace came when the Golden State Warriors wooed Kevin Durant away from the Oklahoma City Thunder, with a two-year $54 million contract.
Durant and his Oklahoma City teammates were within one win of knocking Golden State out of the playoffs during the finals of the Western Conference.
However, the Warriors were able to rally from a deficit of 3-1 in the series to eliminate the Thunder prior to losing to Cleveland in the finals.
The NBA championship futures for the 2016-2017 season moved as soon as Durant made the announcement he was leaving the Thunder and headed to Oakland, California.
Odds makers immediately changed the odds for Golden State to 4 to 5 from their previous 3 to 1 at many sportsbooks.
At the same time, the odds for the current NBA Champion Cavaliers dropped to 4 to 1 from 3 to 1 and they now have the second shortest odds behind Golden State.
At the same time, Oklahoma City dropped far back as the Thunder now sit at 50 to 1 to win the NBA title while before Durant left the team was just 5 to 1 to win it.
Expect the odds for the San Antonio Spurs to be adjusted as well. On Tuesday, the Spurs signed free agent Pau Gasol who will help shore up the offense and defense in the paint alongside LeMarcus Aldridge.
Odds makers at a number of sportsbooks also adjusted win totals for the Golden State Warriors following the signing of Durant.
Last season Golden State was 73-9 during the regular season. Odds makers have given the Warriors a win total of 68 for the upcoming 2016-17 season. The OVER on 68 wins is -110 as is the UNDER.
Bettors can also wager that the Warriors will eclipse last season's record win total. In that line of 73.5 wins the OVER is +360 while the UNDER is -460.
Here are the Top 10 odds for winning the NBA Title in 2017
Golden State Warriors 4 to 5
Cleveland Cavaliers 4 to 1
San Antonio Spurs 15 to 1
Los Angeles Clippers 30 to 1
Boston Celtics 40 to 1
Oklahoma City Thunder 50 to 1
Atlanta Hawks 60 to 1
Miami Heat 60 to 1
Toronto Raptors 60 to 1
New York Knicks 75 to 1