Ohio State vs Purdue Free Pick
February 7, 2018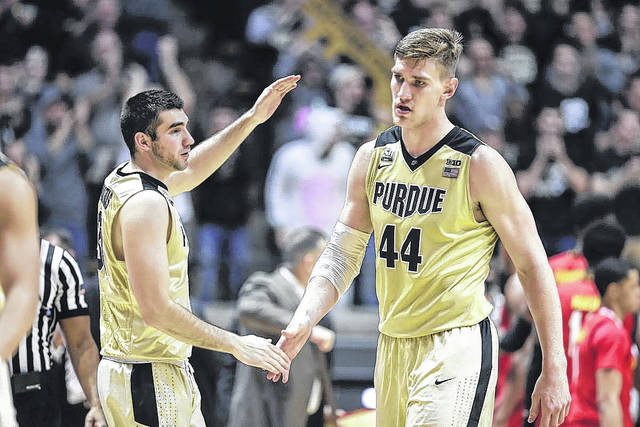 For college hoops action tonight we are previewing the top matchup of the evening. Two ranked teams square off in a national and conference showdown. At 8:30 pm EST #14 ranked Ohio State is in Indiana to do battle with #3 ranked Purdue University at Mackey Arena.
The point spread currently has Purdue favored by 9.5 points and the Over Under is 144.5 points. 64% of the betting public is on OSU +9.5 points as of 12:30 pm EST.
The Boilermakers have won 19 straight, the longest streak in the nation. They have a 12-0 record in Big Ten play, just the third 12-0 Big Ten start in the last 40 years. Purdue is 15-10 against the spread this year. Purdue is accomplishing these stats basically by scoring 3 pointers. They are 42.8% from beyond the arch. This is 3rd best in the nation. Purdue scores a whopping 83 PPG and allows only 66. They feature a prolific offense and a disciplined defense.
Ohio State isn't a bad team either. They are 20-5 SU and 12-11 ATS. They score 77 and allow only 66. Head to head Ohio State has the advantage. They are 7-3 in their last ten games against the Boilermakers. ATS they are 6-4 in those same ten games. Ohio State is the only team in the Big Ten with an all-time edge over Purdue, holding an 89-86 lead in the series. Ohio State is playing without Kam Williams. The fifth year senior was suspended for violating team rules.
With a key player missing there may be some stumbling on offense for OSU. Their defense should not suffer however. There is no real advantage on the inside as both OSU and Purdue have a seven footer at Center. They will score in the teens and basically neutralize any advantage. My instinct in this game is to bet the Under. With a key player missing, two seven-foot centers doing battle and both defenses being great, I think that is the play here. The onus will be on Purdue's guards and forwards to shoot threes and if they are just slightly off then the total score should say under 144.5 points.