OKC vs Utah NBA Free Pick Game 2
April 17, 2018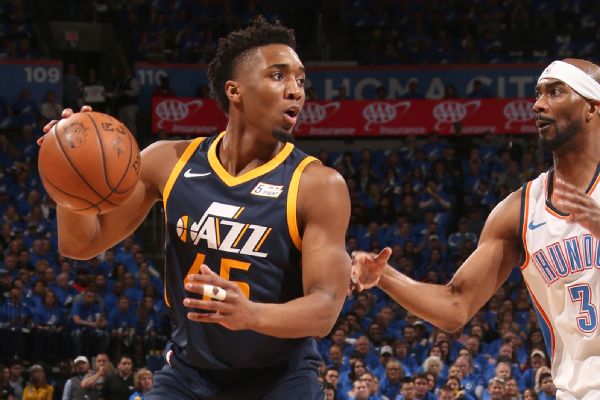 Game one between Utah and Oklahoma City is in the books. Sunday night Oklahoma City secured a win in game one winning 116 to 108. The spread in that game was OKC -5
In game two, being played tomorrow night at 8pm, OKC is favored by just 3.5 points. The line was issued a 5 points again but just crawled down to 3.5 points. The total is 206. Many people are expecting Utah to keep this one real tight and possibly win apparently. Only a late surge by OKC in the second half allowed for the Thunder win.
72% of the cash is on Utah at this point. The tickets themselves are about 50/50. There is no ATP (against the public) type play that we can see currently.
In the first game Russell Westbrook and Paul George poured in 65 points combined as well as 20 rebounds. Carmelo Anthony chipped in 15 points as well but was only 5-13. Westbrook went 0-4 from the three point line. Rookie Donovan Mitchell led all Jazz scorers with 27 points. His status is questionable/probable for this game as he received a foot injury toward the end of the game Sunday.
These teams matchup very evenly when it comes to scoring and win/loss record. One major difference is that Utah has covered the spread more than OKC. The Jazz are 43-39-1 ATS and OKC is 35-47-1
OKC has beaten the Jazz the last four times they have played dating back to December 5th. This has to be a mental advantage for the Thunder players. But all good things must come to an end. We are taking the Jazz to win this game straight up. At the very least we like the +3.5 points. If Utah can steal one in OKC this should make for a great series. I also like the over 206. If Utah gets this win they will have to score a lot of points. Both teams are very capable and probably will each score over 100 points.
If Mitchell is deemed to be definitely out for game 2, the line will move and I will still take the Jazz on the spread. I'd imagine it will go back up to 5 or 6.