Pittsburgh Loss Gives Books Their Biggest Win of This Season
October 18, 2016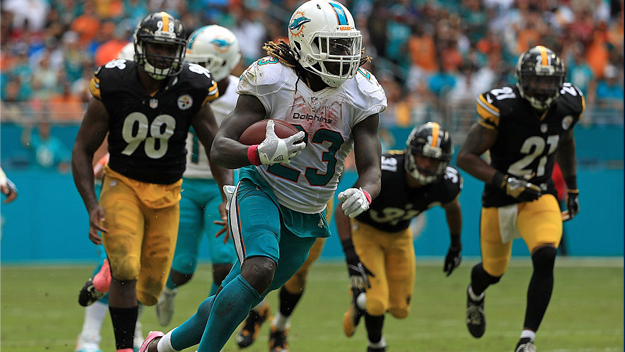 Week 6 of the NFL regular season has come to a close with sportsbooks smiling from ear to ear. The season through five weeks for the books had not been as profitable as they had hoped. However, then came along Week 6.
Sunday's NFL games gave the books something big to smile about primarily thanks to the Miami Dolphins. Miami upset heavily favored Pittsburgh 30-15, which produced the biggest win of the 2016 NFL regular season for books.
Multiple sportsbooks said the action on the game was heavy and very lopsided on Pittsburgh. For each Parlay that included Miami, there were over a dozen with the Steelers. In straight bets, Pittsburgh outnumbered Miami 7 to 1.
Most of the money that offset some of the huge winnings was on Miami, which most books said was sharp money. On one online sportsbook, over 80% of the bets with a point spread were on Pittsburgh. Nearly all of the notable moneyline wagers were on Pittsburgh said one sportsbook.
The 35-17 win by New England over Cincinnati was the biggest loss for books on the day, but that was not anywhere near as big of a betting game, as the Pittsburgh-Miami game with Pittsburgh no covering and not winning outright.
Overall for Week 6 of the NFL the dogs did well going 8-4-1 against the number, which included the Chargers upsetting the Broncos last Thursday.
Looking Forward
Early lines on the New England at Pittsburgh game before Sunday had the game as a pick'em. However, Ben Roethlisberger was injured and will not play against the Patriots. With that, the line ballooned to New England -7.5.
Last season Carolina won the NFC title but has started this season 1-5. The win total for Carolina on many top sportsbooks was 10.5. Some sportsbooks took as much as 80% of the bets on the OVER.
NFC North leaders the Minnesota Vikings enjoyed a bye week this past weekend. Dating back to last season, the Vikings have covered the number in 10 consecutive games. This week, the opening line for their road game has Minnesota as 2.5-point chalk.