Rivera and Kubiak Have Super Bowl Experience as Players and Coaches
January 30, 2016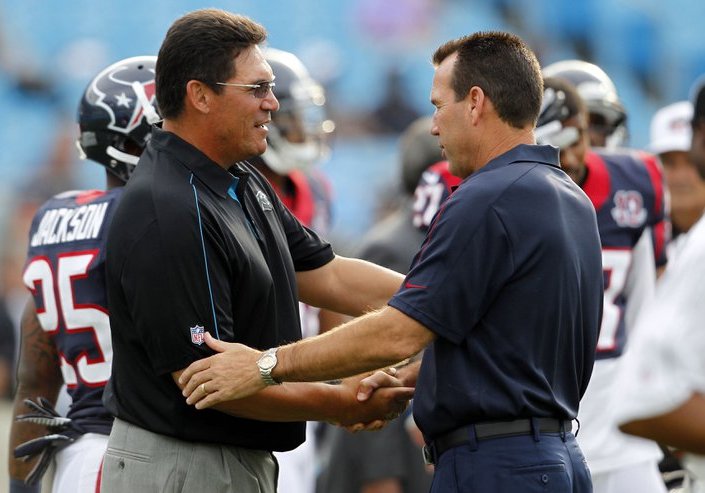 Super Bowl 50 is just over a week away. Players and coaches are preparing for the biggest single sporting event of the year in the U.S.
Both head coaches have plenty of Big-Game experience coming into this game. Although Carolina head coach Ron Rivera and Denver head coach Gary Kubiak do not have many wins in the postseason as head coaches, the two have plenty experience at the Super Bowl over their careers that they can share with their fellow coaches and players.
Both coaches are former players in the NFL, both are experienced coaches, both possess a reserved demeanor and both enter this Super Bowl with a chip on their collective shoulders.
Both coaches during their head coaching careers have been fired and took over their current teams with little if any fanfare.
Both it would seem have the drive to prove their prior doubters wrong.
This Super Bowl is the first time that two head coaches who are former players in the NFL have faced one another since Super Bowl XX in 1985 when the Chicago Bears led by coach Mike Ditka routed the New England Patriots led by Raymond Berry. Rivera played in that game.
Either Rivera or Kubiak will become just the fourth former NFL player turned head coach to win the Super Bowl. The other three were Tom Flores, Tony Dungy and Ditka.
The two have just 7 postseason wins between them despite 12 years of combined experience as a head coach.
Both have a great deal of experience when it comes to Super Bowls. Rivera won in 1985 as a player with the Bears, but lost to Indianapolis as a Chicago Bears' defensive coordinator in 2006.
Kubiak appeared as a player three times in the Super Bowl but lost all three. However, as the offensive coordinator of the Broncos under Mike Shanahan, Kubiak won two Super Bowls in 1997 and 1998.
The two coaches' experience in this game will help their players. Firstly, the coaches will not lose control, as they both know what to expect as a player and coach in this game.
They can relay this on to their players to control their emotions. This is especially important early in the game as an early miscue can cost a team the game.