Source: NFL Will Fine Players Involved in Vegas Wrestling Event
April 12, 2017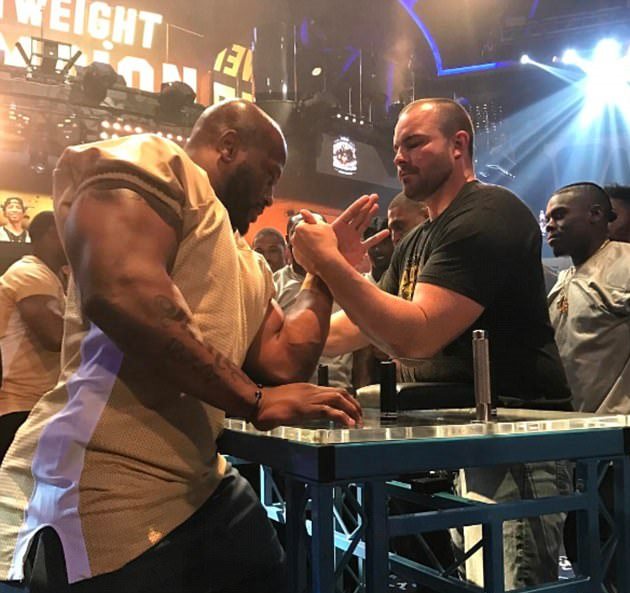 Sources have said the NFL would fine the players who took part in an arm-wrestling tournament that was made-for-TV last week and held at a Las Vegas casino nightclub.
The source said the NFL would further investigate this incident before making any official announcement.
Over 30 current as well as former NFL players are said to have taken part in the Pro Football Arm Wrestling Championship that was held last week at MGM Grand Casino's Hakkasan nightclub.
NFL personnel are prohibited from professional appearances at any casinos or other establishments that are gambling related. The policy is in all player manuals distributed to each player. The policy covers all NFL personnel.
The NFL announced that its gambling policy has not changed even though relocation was approved for the Oakland Raiders to play in Las Vegas.
NaVorro Bowman a linebacker for the San Francisco 49ers said that the NFL did not to date speak with him despite the fact he took part in the event.
Bowman said he was there but has not heard from the NFL and he hopes that nothing negative will result from it.
A football even in 2015 that has been scheduled to be held at a convention center that was connected to the Las Vegas based Venetian casino and featured Tony Romo, who as the time was the Dallas Cowboys quarterback, was canceled. The event was called off after league officials informed players who were involved that they could be fined for taking part.
Much like that event, the arm wrestling tournament was not promoted heavily. The NFL said it heard about the event after it had already started.
James Harrison a linebacker for Pittsburgh and Marshawn Lynch a retired running back were the two team coaches. Miami Dolphins Kenny Stills, Pittsburgh's Maurkice Pouncey, Oakland's Marquette King and Mario Edwards and New England's Patrick Chung took part as well.
The contest will be broadcast May 27 and 28 on CBS with the championship aired June 3.
Part of the prize money for the individual as well as team competition is being donated to charities that the players chose, said the event's official website.
The NFL has always had a strict policy on gambling by any NFL personnel and about any events that are related to casino's or held at casino's such as the arm wrestling tournament.