Sportsbooks Adjust Dallas Cowboys Futures Following Romo Injury
August 29, 2016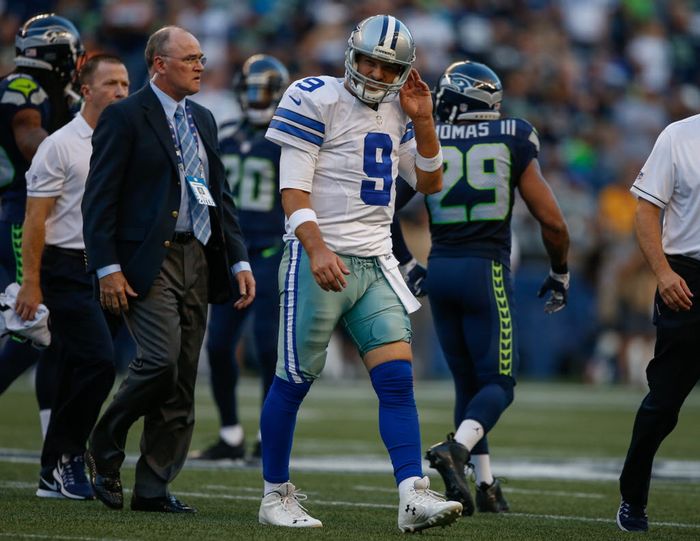 The Dallas Cowboys were hit with bad news again this weekend when doctors told them that veteran quarterback Tony Romo had broke a bone in his back during the Cowboys preseason game on Thursday against Seattle.
Doctors said the injury could sideline the Dallas signal caller between 6 and 10 weeks but Jason Garrett the Dallas head coach called the situation day to day with Romo for now wearing a back brace.
Odds makers on sportsbooks across the Internet believe the Dallas QB will miss the opener against the New York Giants and already have adjusted the futures on that game.
Dallas was a 4.5-point favorite on the board before Romo's injury but New York with the new line is now a road favorite by 1 ½ points. The point total has moved down to 47 from 49 ½.
The futures for Super Bowl LI have also been adjusted by sportsbooks. Prior to the announcement of Romo's injury, Dallas was 20 to 1 to win next February's Super Bowl LI as well as 9 to 1 to win the NFC Championship.
Following the announcement of the injury, the Cowboys dropped on the Super Bowl LI futures board to 30 to 1 and to 15 to 1 on the NFC Championship futures board.
Three other NFC East teams have moved up due to the drop by the Cowboys. Prior to the injury to Romo the Giants were 30 to 1 and are now 25 to 1, the Washington Redskins were 65 to 1 and are now 50 to 1 and the Philadelphia Eagles were 80 to 1 and are now 70 to 1.
The same holds true for the NFC Championship as the Giants moved up to 13 to 1 from 16 to 1, the Redskins to 20 to 1 from 23 to 1 and the Eagles to 35 to 1 from 38 to 1.
The Cowboys have seen some extra attention focused on the team during the preseason because of how well Dak Prescott their rookie quarterback has played.
Prescott was a 300 to 1 betting choice on some sportsbooks to win the Offensive Rookie of the Year in the NFL before the injury, but is now 7 to 1 to win the award.
Prescott will be Dallas' first starting rookie quarterback to begin a new season in 15 years when Quincy Carter did so.
Last season, the Cowboys were 1-11 with Romo on the sidelines with a broken clavicle.