Sportsbooks and Bettors Like Pacquiao-Khan Matchup
February 28, 2017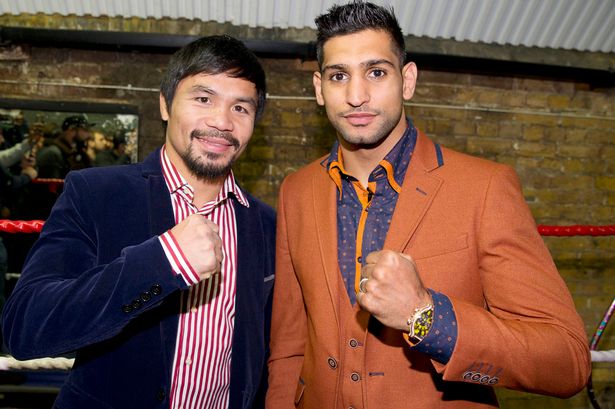 Manny Pacquiao likes making money and will collect a large sum after agreeing to a deal with Amir Khan to fight April 23. The 38-year old veteran fighter from the Philippines held a poll to see who boxing fans wanted to see him fight.
The public's answer was Khan. This past weekend, Pacquiao confirmed that he would cancel his bout against Jeff Horn to fight Khan.
Odds makers and bettors alike are happy over this new match. Early wagering indicates many believe the bout will be close. One sportsbook has Manny as the 2 to 5 favorite with Khan sitting at 2 to 1. A draw, which is rare today, is sitting on 25 to 1.
Betting on rounds shows Pacquiao with the best chance of knocking Khan out during rounds six through 10. During those five rounds, Pacquiao is 12 to 1 to knock out the younger Khan.
Odds show Khan knocking out Pacquiao during the first round are 100 to 1.
Both Pacquiao and his nemesis Floyd Mayweather are considered two of the all-time best boxers and are both experts as well in marketing.
Both have said they were retired and then returned to the ring, which delights fans, bettors and of course sportsbooks. It adds millions of dollars to their pockets as well.
Mayweather retired at a perfect 49-0 but speculation is he wants that coveted win No. 50. Hype has been high regarding a possible bout between Mayweather and Conor McGregor the UFC champ, but chances of that happening in the near future are not good.
Should they ever square off odds makers have shown with their odds that McGregor has little chance against the ultra-talented Mayweather. One sportsbook has Mayweather sitting at 3 to 25 to win, while McGregor is at 5 to 1 to win.
Regardless of what happens with the Mayweather vs McGregor possible bout, the matchup between Pacquiao and Khan will attract a large handle from bettors.