Sportsbooks Squeak Out Small Win in Super Bowl LI
February 7, 2017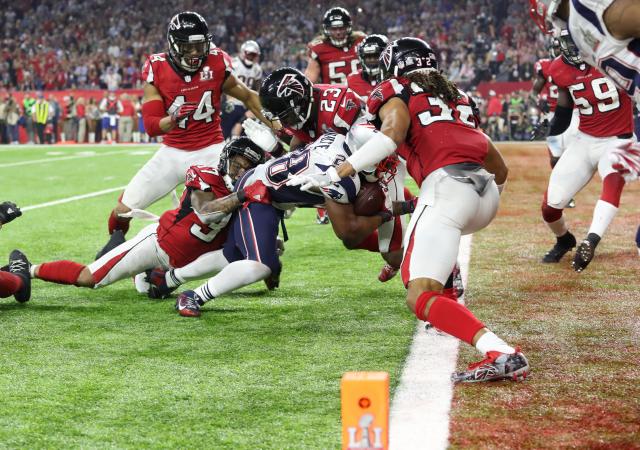 Sportsbooks were able to walk away Sunday night with a small profit in Super Bowl LI, which is being called the most incredible Super Bowl of the 51 played to date.
The New England Patriots made an unbelievable comeback from a 25-point deficit to beat the Atlanta Falcons in the first-ever overtime game in Super Bowl history.
Sportsbooks this season were beaten routinely by bettors but were able to come out on top Sunday night. The futures board helped the books to the win as did parlay cards.
In the game itself, action came in for both sides, while during the game, the public beat the books with live wagering as New England worked its way back to a tie.
Most online sportsbooks said they would have won big if the Falcons had been able to hold on and the total would have cashed UNDER.
Bettors were strong in second half bets with New England -6 and OVER at 30.5. When Atlanta went ahead 28-3, the odds of New England rallying to win straight up jumped to 12 to 1.
One book had odds of 16 to 1 for New England to win straight up at the start of the fourth quarter when the Patriots were down 28-9. A number of bettors took that, which made it one of the biggest losers for books all day.
Even though sportsbooks did not want the spread to remain -3, they stuck to it for the full two weeks prior to the game and in the end it proved worth it.
For most books, the game itself was a balance bet with action coming in for both, with big support that came in late on Atlanta.
Many times sportsbooks will clean up on props both before and during live betting, but this year it was different as it has been nearly all season, the public won big on the props and came close to taking the win on the game itself.
One prop that all books lost was overtime. This was the first time the Super Bowl played an overtime period and odds on most books for that prop were 7 to 1.
Last year's overall handle for the Super Bowl set a new record at $132 million this year it reached $138.5 million. Those figures are registered money in Nevada sportsbooks, but the overall amount wagered was estimated to be much higher due to the number of online sportsbooks.